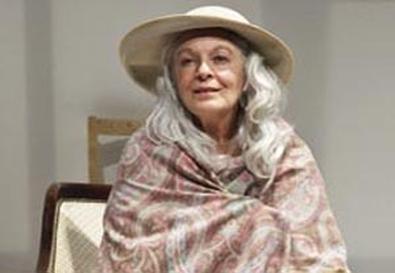 Only Tina Howe, the author of such eccentric and lyrical works as
Painting Churches
and
Coastal Disturbances
, could take what is essentially an episode of
The Golden Girls
and turn it into a tenderly sad and riotously funny meditation on age, family, and freedom of expression.
Zestful and irascible portrait painter Catherine Sargent is legally blind and hardly ever leaves her room in a Bronx nursing home. Raging against the dying of the light, she plots to escape to Paris aboard the QE2. Her only hope is to enlist the aide of her senile roommate, Rennie Waltzer, who chats frequently with her late husband. At first the imperious, fiercely intelligent Catherine rails at being stuck with the sweet-natured Rennie. But—surprise!—by the final curtain they bond over their common ailments and their shared need to reclaim independence.
Yes, the plot is implausible, ridiculous, and even sitcom-level simple. Yet Howe endows it with a poetic beauty, as images both absurd and dazzling cascade from the dialogue. In one masterful example, she constructs a long scene of fascinating contrasts: As Rennie's large family visits, Catherine suddenly offers a passionate, erudite lecture on the importance of her favorite painting, Manet's
Le Dejeuner sur L'Herbe
, which hangs over her bed, followed by the Waltzers enthusing over a nephew's kitschy TV commercial for a furrier, featuring minks riding in a gondola to Vivaldi's
Gloria
. The painting and the ad both have meaning to those describing them, and Howe treats each with humor and respect. She also skillfully works in ancient magical bells, singing pterodactyls, skating parties on the Charles River, and how to judge the potency of pills.
Director Michael Wilson deftly maintains a tone between broad comedy and syrupy sentiment. A tearful scene between mother and daughter is followed by a jarringly scary one with wheelchair-bound patients crashing into each other. The skilled cast endows these moments with a sharp edge and compassion. They can switch from riotous to heartbreaking on a dime. Jane Alexander takes Catherine from bile to joy with nary a bump. We can also see the kind of young woman she was as she recalls her scandalous bohemian past. Likewise, Lynn Cohen offers a glimpse beneath the fog of dementia to Rennie's life as a loving wife and mother. As she searches for the right word ("We need to create a division," she says as the escape is planned), the nurturing soul she once was can be discerned.
Vanessa Aspillaga, Jack Gilpin, Julie Halston, Rob Riley, and David Margulies create memorable impressions as fellow patients, nurses, and visitors. Margulies is particularly moving as a former archeologist recalling a mystical experience on a dig. It's just one colorful thread in Howe's rich tapestry.
Presented by Primary Stagesat 59E59 Theaters, 59 E. 59th St
.,
NYC
.
April 9
–
May 2. Tue
.,
7 p.m
.;
Wed
.–
Sat
.,
8 p.m
.;
Wed. and Sat
.,
2 p.m
. (
Additional performance Sun
.,
April 12, 3 p.m
.) (
212
)
279-4200 or www.ticketcentral.com
.
Casting by Stephanie Klapper Casting
.