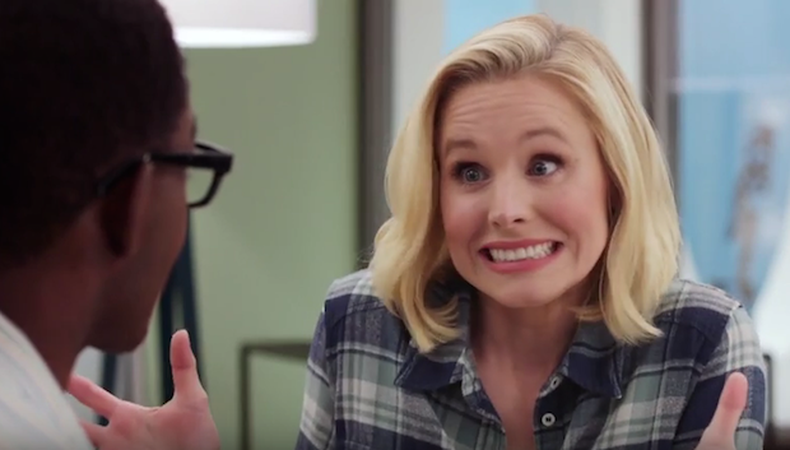 The dust has settled (for the most part) on the major networks' cancellation and renewal spree ahead of this week's upfront presentations. It's out with the old and in with the new all over television, and NBC has premiered some of its newest additions to its 2016–2017 slate. Check out the promo trailers for a few below!
"THE GOOD PLACE"
Kristen Bell and Ted Danson star in this comedy series about what happens when a woman's moral compass is read upside down. Bell stars as Eleanor, a sort of bad person who somehow ended up in the Good Place, where no one can curse, hangovers don't exist, and one's free to stuff their bra full of shrimp without judgement. Danson, who's returning to the network since his last "Cheers" turn in 1993, plays her welcoming committee and guidance counselor of sorts. William Jackson Harper ("True Story") is in the supporting role as Eleanor's sole friend who knows the truth about her damning ways back on Earth. The series is the brainchild of "Parks and Recreation" and "Brooklyn Nine-Nine" creator Michael Schur. Check out the sneak peek below!
"TIMELESS"
This fall will also welcome time travel series "Timeless," starring Abigail Spencer ("Suits") as Lucy Preston, a historian enlisted to jump into the past and prevent one man from attempting to rewrite the future. Sakina Jaffrey ("House of Cards") is back in the governmental power suit as her advisor, while Malcolm Barrett ("Dear White People"), Matt Lanter ("90210"), Goran Visnjic ("ER"), and Paterson Joseph ("The Leftovers") fill out the other supporting roles. The series appears to revisit history-making events while tackling issues surrounding racism in America. Created by "Supernatural" writer Eric Kripke and the producers of "The Blacklist," "Timeless" will air Mondays.
"THIS IS US"
This new series' sprawling ensemble is connected by one commonality: They all share the same birthday. While one couple deals with the birth of their new children, another struggles with her weight before the trailer pivots to the challenges facing a pretty boy TV actor and a man meeting his father for the first time. Mandy Moore, Milo Ventimiglia, Justin Hartley, Chrissy Metz, Ron Cephas Jones, and others star in this heartfelt drama about the human experience on an individual and connected scale.
Inspired by this post? Check out our television audition listings!