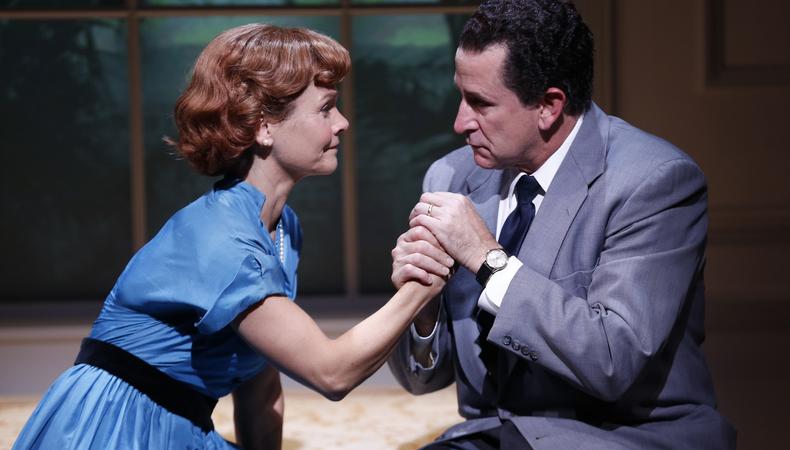 Douglas McGrath's new play "Checkers" offers a reasonably compelling portrait of the relationship between Richard Nixon and his wife, Pat. However, it slights the political context of its times far too much and overreaches in its intimations of what might have driven the 37th president of the United States to his epic self-destruction.
McGrath opens in 1966 Manhattan, where Nixon, having left politics after his 1962 defeat in the California race for governor, is obsessing over his irrelevance. Pat, however, is blissfully happy leading a private life as an Upper East Side housewife with two young daughters. Nixon's former political guru Murray Chotiner arrives, ostensibly to get Nixon's support for a candidate but really to convince him to run for president in the 1968 election. In short order their conversation leads Nixon to recall 1952 and a major crisis that marred his run as Dwight D. Eisenhower's vice-presidential candidate. ("Of all my crises, it was the worst and most applicable now" is the rather ham-fisted launch for the flashback.) Accused of misusing a $20,000 political fund provided by wealthy supporters for private purposes and facing calls to resign from the ticket, Nixon responded with his famous "Checkers" speech on national television, in which he laid his personal life and finances bare. Having dramatized the events, McGrath returns to 1966 and the decision we know is coming, which sets the stage for a blistering confrontation between husband and wife.
McGrath paints Nixon sympathetically as the victim of a monstrous smear, and it does seem that the accusation was unfounded. However, his presentation of the then U.S. senator as a good and decent man unfairly attacked by the establishment because he is a reviled outsider ignores Nixon's rabid anti-communism that fed McCarthy's witch hunts and destroyed scores of innocent people. He already had blood on his hands, which makes McGrath's concluding inferences that the seeds of Nixon's later corruption were sown by l'affaire Checkers play like a queasy apologia.
Under Terry Kinney's broad but effective direction, the play's collection of short scenes in many locations (it often feels as if it were more suited to the screen) speeds along, aided by Neil Patel's simple unit set and especially Darrel Maloney's inventive and witty projections. Anthony LaPaglia is persuasive as Nixon, finding him in voice and body language and smartly injecting the character with a youthful vigor and innocence in the flashback. What he can't do is provide much psychological depth, but that's due to the script. Kathryn Erbe is just plain wonderful as Pat, giving us a strong woman who's equal parts Donna Reed and shrewd political operative. Erbe excels in projecting the bone-deep disgust Pat comes to feel about a life in politics and quite affecting in the play's climactic battle and closing moment.
Lewis J. Stadlen's determined and profane Murrray is also an asset, and six more actors play many small roles with professional if somewhat reductive aplomb. "Checkers" entertains as it essentially does the same thing.
Presented by and at Vineyard Theatre, 108 E. 15th St., NYC. Nov. 8–Dec. 2. (212) 353-0303 or www.vineyardtheatre.org. Casting by Henry Russell Bergstein.
Critic's Score: B-