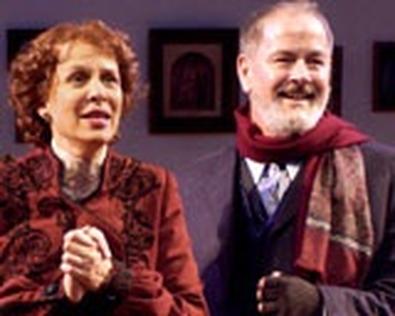 Set at the end of the last century, Anton Chekhov's "Cherry Orchard" presents the struggle between past and present and tradition and advancement as Russia's former ruling class struggles to come to terms with the new state of the liberated serfs. Tina Landau combines her considerable directorial talents together to deal with these recurring themes in Steppenwolf Theatre Company's production, translated by Associate Artistic Director Curt Columbus.
The play opens with family matriarch Lovey Ranevskaya (Amy Morton) returning from Paris to the ancestral home that she left five years ago to discover that her house and cherry orchard are to be auctioned off because of the family's immense debt. The story follows her and her family and friends over the next several months. Throughout the play, she remains skittish and melancholic whenever the subject of the land is broached. She is unwilling to confront reality and instead spends her time reminiscing about happier times. With the auction date fast approaching, Yermolai Lopakin (Yasen Peyankov), a wealthy merchant whose ancestors were serfs, insists that Lovey and her brother Leonid Gaev (Francis Guinan) chop down the cherry orchard and divide the estate into plots to sell as summer cottages.
The ensemble cast of fourteen show a great pleasure for the text and delight in their vocal attacks against one another. Their emotional transitions are lightening quick and they never play on over sentimentality or cheap laughs. Amy Morton shines from the very moment she walks on stage. Her brimming eyes hold such a childlike resolve and unwavering nostalgia throughout that they only help to intensify the ending scene as she sobs uncontrollably after Lopakin announces he has purchased her estate. Although a natural reaction to Lopakin's ineffectual behavior after happily taking Varya's keys would generate some amount of disgust. Peyankov makes it impossible to feel malice towards him by demonstrating Lopakin as a sympathetic and complex figure who is still trying to figure out his new status in a crumbling system. Elizabeth Rich performance as Varya is emotionally heart wrenching as she bravely withstands Lopakin's non-proposal. Her performance is golden.
While Lovey and her brother represent the collapsing grandeur of an old system, Lovey's daughter Anya (beautifully played by Chaon Gross) and Peter Trofimov (Ned Noyes) exemplify the hopeful voices of a future revolutionary movement and ongoing progress. Noyes gives a spirited performance as the eternal student.
Landau's staging has such a wonderfully airy flow that is only enhanced by the simplistic designs of Riccardo Hernandez's set and Scott Zielinski's lighting. The period costumes designed by Jennifer Roberts and the lively Russian music played by some of the cast members gives elemental color to the scenes' mood shifts.
Curt Columbus's new translation of Anton Chekhov's "Cherry Orchard" feels fresh and modern and is well maintained by several moments of supreme acting by the cast.