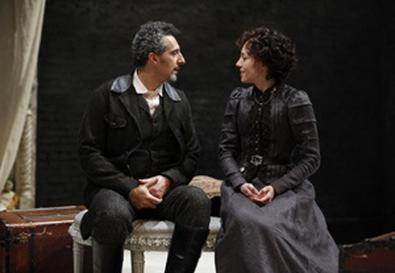 In a program interview for his production of "The Cherry Orchard" for Classic Stage Company, director Andrei Belgrader states that there are two kinds of bad productions of this Chekhov comedy-drama, about an upper-class family facing the imminent sale of its debt-ridden estate.
One is staged at a glacial pace and emphasizes the characters' Russian melancholy, with everyone whining about their sadness in between trips to the samovar. The other stresses the comic elements and has the actors mugging up a storm. To avoid the tedium of the first, Belgrader has gone too far toward the hilarity of the second.
Despite illuminating work by sterling actors such as Dianne Wiest, John Turturro, and Daniel Davis, the result is a sort of manic Chekhovian clown show. A frankly presentational style can work as long as the central dynamic of the family's tragedy of inaction is still conveyed, but Belgrader has made so many weird choices that they totally obscure Chekhov's sad and funny portrait of a flawed but loving community. The idiomatic translation by John Christopher Jones, who has turned in many memorable Chekhov performances as an actor, is serviceable, but he allows too many anachronisms like "jerk" and "guy."
Belgrader stages the play as if it were a circus, with broad pratfalls and exaggerated emoting. He has the actors break the fourth wall and directly address the audience, even transforming the governess Charlotta into a Brechtian commentator on the action. Poor Roberta Maxwell, who delivers an otherwise intriguing take on the part, is forced into several embarrassing interactions with the front row of theatergoers, asking one unfortunate man to change his seat so she can sit in it and observe the play. In the Act 3 party scene, she coaxes another reluctant patron to dance with her.
A little later in that same act, Turturro's Lopakhin rips open a chair and litters the stage with feathers as he drunkenly celebrates buying the cherry orchard. That's a legitimate piece of business that combines farce with heartbreak, but the feathers float distractingly throughout the theater during the moving final act, when everyone leaves the estate for the last time. Rather than providing an ironic angle on the play, these gimmicks take us out of it and reduce our identification with the family.
The circus theme is stressed in Santo Loquasto's spare set, consisting of crimson curtains and a circular raised stage like a ring. Some of Marco Piemontese's costumes compound the problem. The arrogant valet Yasha resembles a traditional strongman, with bald head and wax moustache; the oafish clerk Epikhodov is decked out like Emmett Kelly in clownish rags and mismatched socks; and Charlotta and the elderly servant Firs appear at various points like ringmasters with top hats. To take the whole outsider-as-commentator shtick further, during the party scene Charlotta is even decked out like the Emcee in "Cabaret," sporting white clown makeup and rouge circles on her cheeks.
This misguided concept is all the more disappointing given the multilayered limning from Wiest, Turturro, Davis, and many others. The Oscar-winning Wiest gives crystal-clear specificity to Ranevskaya's struggle between love of her home and passion for her unfaithful lover in Paris, slowly tearing his telegrams as if she were ripping her own flesh. Turturro skillfully balances Lopakhin's peasant vulgarity and loftier aspirations.
Davis carefully constructs a jolly, playful façade for Gaev, Ranevskaya's feckless brother, and then tears it down to reveal the insecure wreck underneath. There is also in-depth characterization in Juliet Rylance's frustrated Varya, Elisabeth Waterston's giddy Dunyasha, and Alvin Epstein's crumbling Firs. Too bad they have to compete with Belgrader's wild circus approach.
Presented by and at Classic Stage Company, 136 E. 13th St., NYC. Dec. 4–Jan. 8. Tue., 7 p.m.; Wed.–Sat., 8 p.m.; Sat. and Sun., 3 p.m. (No performances Sat. and Sun., Dec. 24 and 25; additional performances Wed., Dec. 21 and 28, 3 p.m., and Mon., Dec. 26, 7 p.m.) (212) 352-3101, (866) 811-4111, www.theatermania.com, or www.classicstage.org. Casting by Calleri Casting.