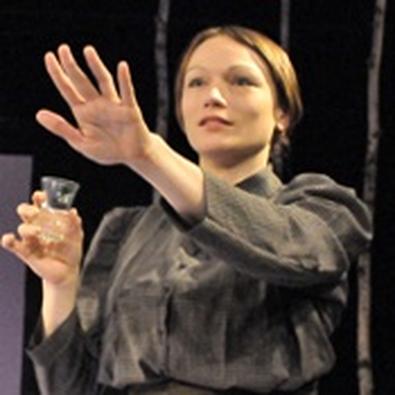 Have you heard of Paul Cohen? I hadn't, yet I found his historical three-hander Cherubina eminently satisfying and well-constructed, with snappy dialogue and emotional depths that leave you pondering its characters long after the lights go up. Cohen, by the way, is self-producing a series of readings of his other plays at the Sanford Meisner Theatre Feb. 5-19, making it easy for those who love good drama to familiarize themselves with his work.
Cherubina is set in Russia mostly in 1913 (one scene takes place in 1921) and involves a triangle both literary and amorous. Crippled schoolteacher Elisa (Amanda Fulks) conspires with her editor friend Max (Jimmy Owens) to submit her poetry under the assumed glamorous persona of Cherubina de Gabriak after Nikolai (Teddy Bergman), the boyish, romantic, enthusiastic publisher of the literary magazine Apollon, rejects Elisa's work as having "no soul." (According to the press release, the play is based on a true story.) There have been similar plots before, but what sets this one apart is an undercurrent of yearning. Cohen poses a theatrical question by opening the play with a duel between Max and Nikolai that is cut short because Max loses his shoe. Thus, once the play flashes back to the story's beginning, we already know that something will go wrong, though we don't know what.
If you saw Tom Stoppard's The Coast of Utopia last season at Lincoln Center, you'll immediately recognize in Nikolai the nearly religious devotion to literature that the character embodies. But Cherubina requires no period knowledge to enter into the realms of longing these characters inhabit. Cohen's dialogue feels fresh and true: Complaining about her job as a schoolteacher, Elisa snaps, "I hate small children. I don't like their heads." In love with Cherubina, Nikolai observes that he has no interest in other women: "I see them on the street, and they look like friendly little dogs."
Fulks makes a moving Elisa, and as she grows more and more into Cherubina, the character blossoms before our eyes — and before the eyes of Max, her long-suffering, slightly lower-class pal who loves Elisa as she is. Owens lacks chemistry with Fulks, but his smart, nuanced delivery tells the story well. As Nikolai, Bergman throws himself about, creating an appealing and appallingly selfish adolescent. Director Alexis Poledouris keeps the action moving and elicits a first-rate performance from each actor. Gina Scherr's evocative set includes birch trees and books.
Cherubina is a solid, moving tale, with a simple set and three actors. It ought to be widely known.
Presented by Rebecca Lingafelter in association with Performance Lab 115
at the Sanford Meisner Theatre, 164 11th Ave., NYC.
Feb. 4-23. Thu.-Sun., 8 p.m.
(212) 352-3101 or (866) 811-4111 or www.theatermania.com.