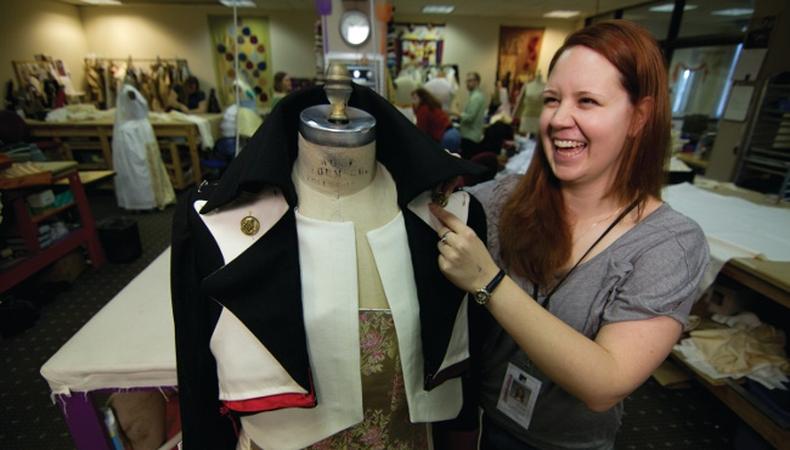 For future theater artists and administrators looking for that perfect internship to propel their careers, Chicago is the promised land. At Steppenwolf, the Goodman, and Chicago Shakespeare Theater, three of the city's most prominent companies, entry-level jobs are designed to fold new employees into a tight-knit community dedicated to collaboration. Each theater first and foremost makes clear a very important thing: Interns do not fetch coffee.
"We're inundating interns with educational opportunities because we're super conscious of making sure their time here is well spent," says Meryn Daly, Chicago Shakespeare's production office manager. In a company with 150 staff members and up to 40 interns at a time working in over a dozen departments, learning and networking opportunities are practically boundless. "When they're spending time with us they're actively learning things. They're not getting coffee," she reiterates for good measure.
David Schmitz, managing director at Steppenwolf Theatre Company, characterizes most arts internships as "filing and faxing, and you're lucky if you get to sit in on a meeting." Instead, college-age summer interns and yearlong apprentices are given the same responsibilities as full-time employees in the theater's 17 departments. Steppenwolf apprentices—which encompass the Multicultural Fellowship, a professional development program for people of color—are paid minimum wage with flexible schedules, monthly seminars, and the opportunity to pursue individual or group projects.
Because those projects are devised and executed entirely by apprentices, résumés can list specific achievements beyond simply completing a stint at Steppenwolf. Schmitz says one apprentice designed a theatrical ditty bag, full of pouches and pockets for an actor's props and costume pieces. "She created a hundred of these bags, and they use them in stores to this day."
Perhaps most impressive is Steppenwolf's retention rate; 30 percent of all current staff members are former interns or apprentices. Throughout its long history the theater has positioned its entry-level programs as the first steppingstone in many arts administrators' careers. It's a trend throughout the Chicago theater scene; half of the Goodman Theatre's full-time hires are former interns.
"We don't consider them interns," points out Elizabeth Elliott, publicity manager at the Goodman. "We treat them as if they're employees. We prep them to be hired." Considering the theater's associate managing director, company manager, director of grants and operational developments, and internship coordinator all began as interns, it's no wonder there's little distinction. Elliott herself began at the theater as a PR intern and was thereafter bumped up to publicity associate. Now she works in the department with her new associate, who also started on the internship level.
Elliott speaks from experience when she advises prospective interns to pursue whichever field in the theater might interest them. "I was so scared, like, are you sure I'm supposed to be here? But you wouldn't be going out for this if you weren't somewhat capable." For thespians new to Chicago, she recommends going to see as much theater as possible. "I just went and saw shows and used my student discount—which was two years expired," she remembers.
Schmitz got his start by approaching the people and institutions he admired: "Volunteer or make yourself known to that company. There's a really intricate though not really formal mentoring process that happens in Chicago." Daly echoes the idea, saying the city's theater companies share actors, designers, and administrators in the spirit of inclusion. "It's never a competition with the other companies. It's not like the Goodman wants to do a Shakespeare play and now we have to have a rumble. You develop relationships, and that's the best way to get new jobs."
Inspired by this post? Check out our audition listings!