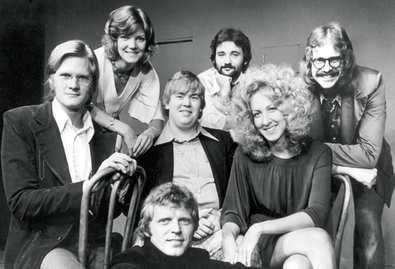 Reduce Chicago to its deep-dish core, and you will see it is at once synonymous with blustery winds, baseball futility, and side-splitting comedy of the highest degree. It is not only the birthplace of ensemble comedy but also the breeding ground for generations of comedians since the 1950s.
Chicago comedy began at the turn of the 20th century, when the city was a major hub for vaudeville. According to Douglas Gomery, professor emeritus at the Philip Merrill College of Journalism at the University of Maryland in College Park, "Chicago always trailed only New York in vaudeville stops," with dozens of theaters, some—like the Academy of Music and the McVickers—with capacities of up to 2,000 seats. But vaudeville didn't stand a chance against the emergence of the talkies. "By 1930 pure vaudeville had died," writes Gomery, "crushed by Hollywood."
Despite the death of vaudeville, the appetite for comedic pleasures was whet during that era, and in 1925, the foundation for modern Chi-town comedy was laid when a schoolteacher named Viola Spolin made up a group activity game for left-out children to play. In an effort to help children achieve "self-discovery," Spolin practiced and proliferated her games through the '30s and '40s, and in 1955, Spolin's son Paul Sills adopted her games into his theater ensemble the Compass Players. In 1959, Sills, Howard Alk, and Bernie Sahlins opened the Second City cabaret theater, today one of Chicago comedy's crown jewels. "Sills took these games and turned them into more of a theatrical process," says Andrew Alexander, the CEO and co-owner of the Second City, on a phone call from the Second City headquarters in the Old Town neighborhood of Chicago. "That's pretty much how it started."
Spolin worked with her son teaching classes at the Second City, and in 1963, she published what is now considered to be the Bible of ensemble comedy, "Improvisation for the Theater," which is still widely in use. Meanwhile, the Second City's success paved the way for Comedy Cottage, Comedy Womb, Who's on First, and Zanies (still standing today). A full-fledged comedy boom had taken hold. In the mid-'70s, Bill Murray, John Belushi, and Dan Aykroyd all passed through Chicago on their way to "Saturday Night Live," putting a national spotlight on Chicago's prowess in the field.
A central figure in Chicago comedy at the time, and the man who taught many of the famous alumni, was the late Del Close. He was considered a guru, developing many comedians—his students included Gilda Radner, Shelley Long, Harold Ramis, Murray, Belushi, Aykroyd, and later Chris Farley, Bob Odenkirk, and Mike Myers. He began to wonder if the Second City's use of Spolin's improv techniques as a way to come up with sketches wasn't wasting their performative potential; Close had experienced success with his early San Francisco–based comedy troupe the Committee in bringing the improv techniques to the stage, and not just as a study method.
This debate led to Close's split with the Second City and the establishment of ImprovOlympic, later to become just iO, in 1981. "Del was one of the first directors of Second City after Paul Sills," says his longtime partner Charna Halpern, who founded iO with Close and is its current creative director, over the phone. "Second City was comedy revue; they were what they do now, which is sketch comedy. They would do [Spolin's] games, and they would get ideas for scenes based on those games that they would try. Close and Bernie [Sahlins] had always had this fight over 'Was improv a tool for Second City, or was it a real art form?' Del broke away from Bernie to say it's an art form, and then it really took off. Then it was open to other people."
iO became the training ground for comedians looking to perform improv in its rawest form, taking a topic and basing an entire show around it. This became known as long-form improvisation, also known as "Harold," the name reportedly a play on the scene in the Beatles' "A Hard Day's Night" when a journalist asks George Harrison what they call his unique hairdo, and Harrison facetiously replies, "Arthur." The Harold technique is still used in many comedy workshops and training centers, including the Upright Citizens Brigade, whose founders—among them Amy Poehler—were all Close's students.
By the mid-'80s, Chicago was locked in as the West Point of comedy, churning out performers, writers, and producers who would take their finely tuned craft to the more judgmental, business-driven cities of Los Angeles and New York. But why did Chicago become this incredible breeding ground? What is it about the Midwestern locale, frigid winters, and chili-smothered hot dogs that lends to a hilarity that is translatable to the mainstream?
"The lack of 'industry' helps," says Second City and iO alumnus Bob Odenkirk, a native of nearby Naperville who returned to Chicago in 1988 after a stint writing with "Saturday Night Live," in an email. "There are no talent agents, network execs, or studio people in the audience, so none of the actors are playing to that twisted intellect. People are challenging themselves and their artistry first, and only later—when they're in their 30s and worried about having a career—do they begin to chase the 'industry's' approval."
Second City's Alexander agrees with the assessment that being out of the spotlight helps. He also feels there's a certain gruff charm to the city that adds to the ability to dig in and do the labor necessary to make something of yourself, and stay grounded when you get there. "There was [workmanlike radio presenter] Studs Terkel. And Chicago is called the City of Big Shoulders. There's a real good work ethic—rough-and-tumble—that brings a certain authenticity to the work," says Alexander. "It's the one place in North America where you can learn your craft. It's not Los Angeles and it's not New York, so you're not under the glare of the industry. People do get to learn their skill sets."
Chicago today sits at the epicenter of ensemble comedy. Comedians like Hannibal Buress and the late Bernie Mac have even given Chicago a recent bit of fire in the standup department, a style of comedy more often associated with Los Angeles and New York. "Between Chicago being a great theater town and Second City's artistic aspirations and commitment to standards, you've got the environment for all the great actors, writers, and directors that have come in the last 50 years," says Odenkirk, who has gone on to a long career as a writer and performer on television shows like "Mr. Show With Bob and David," "Tim and Eric Awesome Show, Great Job!," and "Breaking Bad."
It may not be the easiest city to live in—just ask any Chicagoan about the weather in mid-February—but it is by far the best city to sow your wild (and funny) oats.