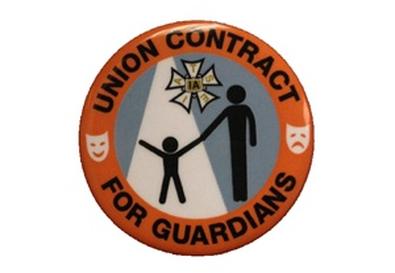 The adults responsible for the safety of child theater performers now have a little safety themselves. After months of negotiations, Broadway's Child Actor Guardians ratified their first collective bargaining agreement with the Broadway League on July 30. All Child Actor Guardians employed by members of the Broadway League, the national trade association for the Broadway industry, are now covered by the terms and conditions of an agreement negotiated between the League, the International Alliance of Theatrical Stage Employees, and IATSE's Local 764.

Because parents are not allowed backstage due to space limitations, legal concerns, and safety issues, shows employing cast members under the age of 18 must provide a "responsible person" to supervise them during rehearsals and performances, according to the terms of the Actors' Equity production contract. Sometimes called child "wranglers" -- but never babysitters -- these Child Actor Guardians oversee the care, professional behavior, and well-being of the children who perform on Broadway.

"Some of them have worked for over 20 years, and now they're recognized as professionals right alongside every other person that works backstage, which is really important," said Patricia White, president of Local 764. "It's very positive that they're equals in the Broadway community now, with everybody else who's represented by a union."

According to IATSE, the contract is for a period of four years and includes annual wage increases, as well as employer contributions to health and retirement funds.

A similar agreement was ratified last year between the league and the Guardians who worked on the Broadway musical "Billy Elliot," which featured nearly two dozen children in its cast before it closed in January 2012. That agreement, which did not include retirement benefits and applied only to employees of the show, was reached in November with help from IATSE after 18 months of negotiations.

"But when 'Billy Elliot' closed, that left us in the position we were in before we started," White said.

The new contract is the first of its kind to cover Guardians across the Broadway industry.

The efforts for a union contract began in 2010, when Guardians were first granted representation by New York City Theatrical Wardrobe Union Local 764. Following voluntary recognition of the union by the Broadway League this spring, bargaining moved forward and an agreement was reached mid-July, then later ratified unanimously by the Guardians in a secret ballot vote.

The currently running Broadway shows "Evita," "Once," and "The Lion King" employ Child Actor Guardians. (Disney Theatrical Productions has negotiated separate agreements with Equity and the other trade unions, however, so employees of "The Lion King" and Disney's other Broadway shows are therefore not covered under the terms of the new agreement between the Broadway League and Local 764.) The upcoming Broadway productions of "Annie," scheduled to open in October, and "Matilda," opening in 2013, will feature many children in their casts and will likely each employ multiple Guardians.