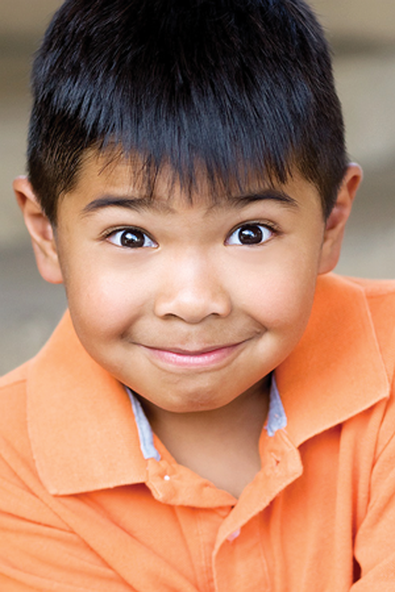 In many ways, taking a good headshot of a child actor is the same as for any other actor—though most adults probably don't lose a tooth during a photo session. That actually happened to Robin Lorraine, a Los Angeles–based photographer who specializes in photographing children. The boy in question realized one of his baby teeth was falling out, but, like a pro, remained calm and continued the shoot.
Lorraine began her busy career when her son was 11 and needed new headshots. After taking his photos, she says, "one thing led to another and people started asking me to do theirs, and it grew into a business." She has been a professional photographer for seven years, specializing in kids. Even before the actor sets foot in her studio, Lorraine consults with parents and representation about what to expect. "I consult with them about their wardrobe and the looks we're going to capture," says Lorraine. "Now, with online casting, people are putting up multiple shots, four to six shots. So we go over what types the child would fit and the wardrobe that can hint at those different types."
For example, she says, "if it's a little girl who looks sweet but she can also play a tough little tomboy, I might recommend she have a pair of bib overalls so we can just have that hint of a tomboy look. And also something sweet, like a cardigan sweater." Vital to making a photo stand out is color. "There are colors that work well with certain skin tones, colors that can bring out the eyes," Lorraine says. "I like vibrant colors with kids, anything that's going to make them pop but without overpowering their face. For example, if they're blond with bright blue eyes I might put them in a medium-tone blue or a violet or aquamarine." Lorraine also stresses the importance of capturing their youthful appearance, which is why she tells kids to come in with no makeup. She might use clear mascara to make the eyes pop but otherwise prefers to avoid makeup until age 13.
The toughest part about shooting with kids? "They can't sit still," Lorraine says with a laugh. As shoots generally last from 90 minutes to two hours, Lorraine has various tricks to help keep them focused. But mainly, she wants them to be relaxed. "The most important thing is to capture their personality," she says. "Usually, I just work with a kid and get to know them a little bit through the shoot and pull out that part of their personality while I'm photographing them. I get them to talk to me about things they're interested in, what they like."
If a child wears glasses, Lorraine prefers to shoot them in their frames, though she has the lenses removed to avoid glare—unless they are glare-free. If the subjects can wear contacts, she'll get both looks. In general, she doesn't like to use props unless it shows off a specific skill. "If they're an expert skateboarder, we'll get a shot of them with a skateboard. If they're very good at baseball, we would capture a shot of them in their uniform," she says. She admits there are no hard rules, only guidelines. "There are specific rules on headshots: no black, no white, no hats, no writing on the clothing. But sometimes the rules are to be broken. I try to capture all the traditional headshot looks but throw in some other things. It's amazing how many times the agent will choose that offbeat shot as one of their main headshots."