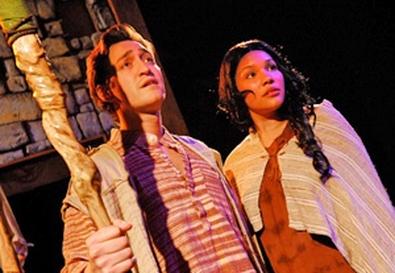 And the Lord said, "Let musicals adapted from Old and New Testament stories be fruitful and multiply": "Godspell," "Jesus Christ Superstar," "One Two Three Four Five," "King David," "Joseph and the Amazing Technicolor Dreamcoat," and so on. And Stephen Schwartz and John Caird's "Children of Eden," which, embracing Adam and Eve and Noah and the ark, is really Act 1 of "The Apple Tree" crossbred with all of "Two by Two. Except that "Children of Eden" is less whimsical and more solemn than either of those two shows—and suffers for it.

Caird and Schwartz start with a workable conceit: Present God, Adam, and Eve as an actual, sitcom-type family, the creator sort of a dimwitted "Father Knows Best" father and the first couple mischief-loving kids. Thus the familial conflicts they act out can be overlaid with cosmic profundity, and Schwartz's songs of generational differences, love, and betrayal can strive for Biblical resonance. It works, up to a point. Ever the pungent rhymester, Schwartz gives us "Noah/protozoa," "bewildering/Build a ring." But he also has to answer for "Cain had a wife on the east side of Eden/They did a little lovin', did a little breedin'." And his melodies aim vainly for religious grandeur; the lighter numbers come off best, such as "In Pursuit of Excellence," the Snake's seduction of Eve and the one honest musical-comedy moment in a three-hour, reprise-heavy evening. Caird's book, laden with the faux-naif declarative dialogue peculiar to 1950s Biblical epics, strains to keep the troubled-family motif going; he even duplicates the Act 1 Cain-Abel fight in Act 2, with Japheth nearly slaying one of his brothers. He also delivers a Noah so incredibly dull and humorless that you pine for Danny Kaye.

That said, you will be hard pressed to find a "Children of Eden" more creative and eye- and ear-filling than this Astoria Performing Arts Center production. The auditorium is bisected by a huge, multilevel playing space (did Eden have staircases?), with a well-conducted six-piece orchestra in the rafters, and there's so much happening on stage that you don't always know where to look. Highlights include a shadow-puppet naming-of-the-animals sequence and a clever gathering-of-the-animals-at-the-ark ballet, with Julie Taymor–style staging tricks. A large, strong-voiced chorus roams all over, often standing one or two feet from you, allowing you to hear Schwartz's mellow harmonies up close and unmiked.

Joseph Spieldenner can't make Caird's Noah interesting, but he's a boyish, appealing Adam, with a supple tenor. And as Eve, Emmy Raver-Lampman ages from sexy, funny Valley girl to grieving old woman most persuasively, and she has a heck of a set of pipes, on showy display in an unmotivated but rousing gospel rave for Mama Noah. James Zannelli's Father is stuck with some of Caird's most pompous work. Couldn't God have better lines? But he declaims parental conflict eloquently, with a rafter-shaking voice.

There's much that's annoying about "Children of Eden," most of it Caird and Schwartz's fault. But given this excellent cast and Tom Wojtunik's lively direction, APAC's ambitious staging makes the best possible case for it.

Presented by and at Astoria Performing Arts Center, 30-44 Crescent St., Queens, NYC. May 8–22. Thu. and Fri., 8 p.m.; Sat., 2 and 8 p.m. (212) 352-3101, (866) 811-4111, www.theatermania.com, or www.apacny.org. Casting by Wojcik/Seay Casting.