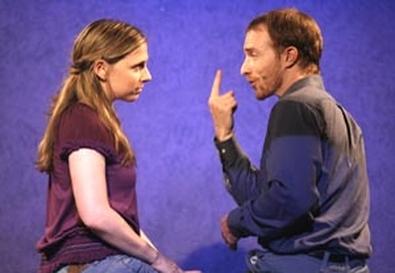 Very little makes cranky critics happier than suddenly, mid-play, remembering we are watching acting and not the real thing. It happened midway through this production of Mark Medoff's 1980 play about the struggles of the deaf in a hearing world—and ultimately about all of our struggles to hear and be heard. The play's two leads, Shoshannah Stern and Matthew Jaeger, are stellar.
Stern plays Sarah, a young woman profoundly deaf from birth, who attended a school for the deaf and now prefers to work there as a maid rather than deal with the hearing world. Jaeger plays James, the school's new speech therapist, fluent in American Sign Language but apparently unaccustomed to the wily ways of the students. The actors fully evoke their characters. Stern does so through translucent emotionality and vivid use of ASL; she does not speak aloud, although Sarah's second-act breakthrough is astoundingly clear and almost musical. Jaeger not only creates a finely wrought character, he also narrates the play, speaks Sarah's lines aloud, and simultaneously performs the whole in ASL.
Not all is perfect in this production. We catch more than a whiff of the 1970s in the sexual politics and in the student radicalism, and the actors (Tami Lee Santimyer and Brian Cole) who play the hard-of-hearing characters are not always completely comprehensible, although they certainly make their characterizations clear and full of youthful bravado. Playing the presumably wiser adults, Marilyn McIntyre is luminous and thoughtful as Sarah's mother, Time Winters makes James' supervisor frighteningly stern yet disarmingly forgiving, and Rebecca Ann Johnson is a lovely throwback to earlier times as an out-of-step lawyer.
The evening is fluidly, wisely, and tenderly directed by Jonathan Barlow Lee. For the deaf in the audience, supertitles repeat all the voiced lines. And here it must be said the speaking actors speak with remarkably deft voices and ideal enunciation—a sad item to be commenting on as noteworthy in local theater. John Iacovelli's set is simultaneously appealing and reminiscent of a 1970s palette, and Leigh Allen's memory-play lighting effectively establishes scenes and evokes ample melancholy.
Presented by and at the Deaf West Theatre, 5112 Lankershim Blvd
.,
North Hollywood. Sept. 13-Oct. 11. Thurs.-Sat
.,
8 p.m
.;
Sun
.,
2 p.m
. (
866
)
811-4111. www.deafwest.org
.