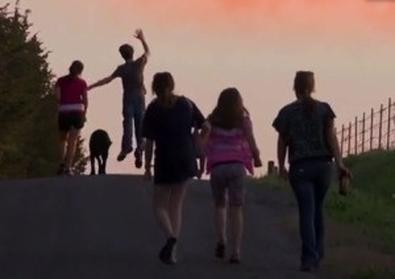 The Waldroup family witnessed something that no children should ever have to see. In one night, they saw their beloved father attack their mother and her friend with a machete and a gun, killing the friend and leaving their mother wounded.
Brad Waldroup was sentenced to 32 years in prison for manslaughter, leaving behind his wife and three children to deal with the ramifications. In documentary "The Children Next Door," director Doug Block follows the family five-and-a-half years after the event, detailing the fallout on the children.
Gently coaxing kids Chelsea, Emily, Elijah, and Ashley into talking about the most traumatic night of their lives, Block respectfully reveals the ways in which they have dealt with what happened. All of them are moody at times, and all of them still seem shocked that the father they grew up with could be capable of such an atrocity. In many ways, it's oldest daughter Chelsea who was hardest hit. She confesses that she worshipped her father and hated her mother until what happened; it's clear that even half a decade later, she's still trying to reconcile the man she loved with his unfathomable actions.
As Block and the cameras follow the Waldroups, they appear on "The Dr. Phil Show" and travel to New York City—watching them gleefully navigate Manhattan is a highlight—to collaborate with domestic abuse survivor Brian F. Martin on a children's book addressing the issues fellow survivors face. Throughout, Chelsea pushes her mother to allow her to visit Brad in prison, adding a touch of tension to the film. Penny wrestles with the implications of her decision, and what it would mean to allow the man who tried to kill her to see her oldest daughter again. The outcome is both heartbreaking and cathartic for the Waldroups, as they rally to survive yet another crisis together.
By putting very human faces to a widespread epidemic, Block and "The Children Next Door" both humanize and celebrate the children who survive horrific family tragedies, reminding viewers of the resiliency of the young in general, and of the Waldroup children in particular.
Critic's Score: A
Directed by Doug Block
Starring Penny Waldroup, Chelsea Waldroup, Elijah Waldroup