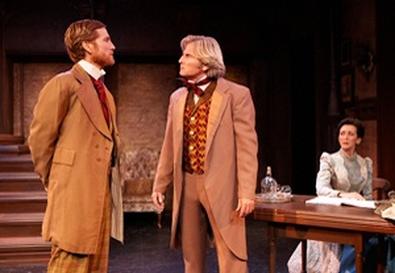 In this operettalike musical, writer-composer Scott Martin tells the story of the intense, troubled relationship between Bram Stoker (Robert Patteri), author of "Dracula," and his employer, the famed actor-manager and matinee idol Sir Henry Irving (Gordon Goodman). Irving was a demanding, dictatorial egotist, who, in addition to his Shakespearean roles, achieved renown for playing sinister characters. Stoker was a red-haired Irishman, who parlayed his job as a theater critic into a role as Irving's friend and private secretary, and manager of his London theater, the Lyceum. But Stoker was also the author of 18 books, all of them negligible except the strange, compelling, and covertly personal "Dracula."
Martin, like other biographers before him, suggests Irving was the model and inspiration for the sinister Count Dracula: His domineering personality subsumed Stoker's, and vampirelike, he took advantage of Stoker's talents and loyalty, sucking out his blood and energy. Martin focuses on the deeply conflicted relations between the two men, refereed by Ellen Terry (Teri Bibb), Irving's leading lady and, perhaps, his mistress. The plot hinges on Stoker's attempt to persuade a reluctant Irving to play Dracula in the first reading of the stage version of his novel.
Martin deploys the historical facts with skill, creating opportunities for impassioned arias and duets as well as lively ensemble numbers. Patteri captures Stoker's passion and thwarted ambition, and Goodman finds comedy and menace in Irving's crotchety egotism. Bibb makes less attempt to capture a physical resemblance to Ellen Terry but brings ample winsome charm of her own to the role. Joey D'Auria provides an appealing portrait of Irving's irrepressible stage manager, and a large and skillful ensemble exudes high energy. Director David Galligan navigates the play's shifting moods with loving care, Jimmy Cuomo supplies the handsomely atmospheric set and A. Jeffrey Schoenberg the colorful period costumes. Music direction is by Ross Kalling, with choreography by Lee Martino.
Presented by the Katselas Theatre Company and at the Beverly Hills Playhouse, 254 S. Robertson Blvd., Beverly Hills. Oct. 10–Nov. 8. Fri.–Sat., 8 p.m.; Sun., 2 p.m. (310) 358-9936. www.katselastheatre.org.