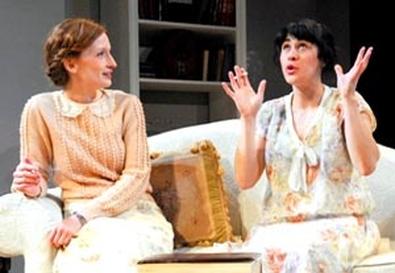 Lillian Hellman's first play,
The Children's Hour
, is rarely produced today. When it premiered on Broadway in 1934, it shocked audiences with its bold story of schoolteachers accused of lesbianism. It ran for 691 performances and launched Hellman's career, but for modern theatergoers it creaks with melodramatic devices and self-conscious dialogue. The death by suicide of one of the two protagonists became the stereotypical finish of many gay characters. But given the right director and cast,
The Children's Hour
can still move with its righteous indignation and its powerful indictment of irresponsible actions.
Jessi D. Hill has given the play a sturdy production for the Astoria Performing Arts Center. The focus is not on the alleged scandalous behavior of Karen Wright and Martha Dobie, but on the damage caused by the false testimony of rebellious student Mary Tilford. Aided by Caleb Levengood's simple set, David A. Thomas' sound design, and Greg H. Hennigan's music, Hill creates a real world, where the impact of Mary's malicious lies is keenly felt. There are a few self-indulgent moments, such as an overly long scene change before the intermission, with the schoolgirls moving furniture like Stepford zombies, and an overwrought performance or two during Hellman's over-the-top scenes. But Hill and her company mostly overcome these excesses.
Lauren Marcus is a devilish dynamo as the bad seed Mary, utterly convincing as a spoiled adolescent willing to destroy anyone in her way. In fact, all the actors playing students come across as youngsters, not young adults posing as preteens. As the victimized teachers, Emily Dorsch and Carmel Javaher skillfully avoid the pitfall of overemoting to offer searing portraits of intelligent women oppressed by the ignorance and fear of their community. Javaher has the especially difficult task of playing a woman facing her hidden desires, and she never dips to soap-operatics. Charlotte Hampden as Mrs. Tilford, Mary's rich grandmother, presents a scary portrait of small-town small-mindedness. Her face is a study in horror and confusion as Mary whispers the lies in her ear.
Getchie Argestsinger, Lydia Woods, and Emily Kratter also deserve mention for strong support in this thoughtful revival of a neglected yet worthy play.
Presented by the Astoria Performing Arts Centerat the Good Shepherd United Methodist Church, 30-44 Crescent St
.,
Astoria, Queens, NYC
.
May 23
–
June 7. Thu
.–
Sat
.,
8 p.m
.;
Sun
.,
6 p.m
. (
866
)
811-4111 or www.apacny.org
.
Casting by Wojcik/Seay Casting
.