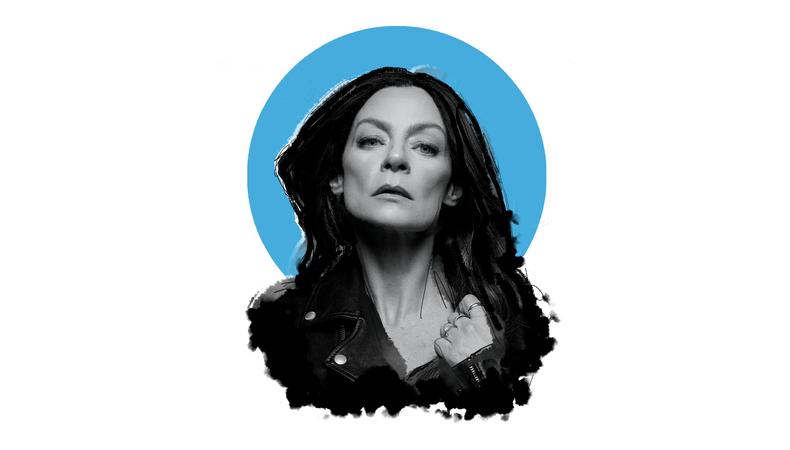 Scottish actor Michelle Gomez jokes that she was born to play the villain. As the first woman to play the role of the Master on "Doctor Who" from 2014–2017, she flexed her nemesis muscles. Now, she stars as Lilith, aka Madam Satan, a dark and sultry servant to the Dark Lord himself, on Netflix's "Chilling Adventures of Sabrina."
Between "Doctor Who" and "Sabrina," what excites you about supernatural, sci-fi roles?
The fantasy of it. The otherworldliness of it, being able to do things you can't do as a human, having supernatural powers. We always want to be out of ourselves, and that's what's fun and exciting.
What risks are you able to take when playing the villain?
You always have the liberty to take a lot of risks when you're playing the baddie. The thrill [is] to be a little bad and get away with it. That would be my experience—not in life, but I do enjoy playing the baddie for sure.
What has your latest role as Lilith added to your acting skills?
We all get cast for our strengths. My strength happens to be my face, which was born to play witches. I'm never going to be cast in a role like Susan from next door. I'm always going to be Madam Satan or the Shrew or the Master. That's the story this particular face tells onscreen. It's different when you're onstage. But this is a strong face, and that's what I lead with. I've always been open to being as versatile as I possibly can be. I'm not sure it was a conscious decision along the way. I think I've grown into my face. I've certainly grown into my nose.
READ: How to Audition for Netflix
In an industry when things get critical, is it difficult to see your differences as strengths?
I think when you're in your 20s, it's a difficult age. It's a hard time to know who you are. So, if you'd asked me that question a few years ago, I would've answered it differently. But now I'm in a place where I'm comfortable in my own skin and I've accepted who I am, so that's a relief. I'm freer and I don't judge myself quite as harshly as I did when I was younger. And that's what this show makes a great effort to do, as well: [it] includes everyone, no matter what size or shape or gender or color. Everybody is included. I think that's why "Sabrina" [has seen] success. A lot of people can relate to it.
What advice would you give your younger self?
Just be generous with yourself. As long as you lead with kindness and you're true to yourself, you'll find your path.
What movie or show should every actor see?
I grew up in Glasgow, in Scotland, so whenever there were any American movies that we'd come across, it was so different from the landscape I was living in. American movies would inspire me. When I was younger, it was more about dance and singing and Motown. If you'd asked me who I wanted to be when I was 12 years old as a little skinny girl in Glasgow with too much hair, it was Diana Ross. Then my mom pointed out I was a little skinny white girl with too much hair who couldn't sing, so that probably wasn't going to happen. In another universe, I would love to be Diana Ross or one of the Supremes. [Laughs]
Is there an adjustment period coming to America from other parts of the world?
Wherever you're born and grow up, home will always be home. I'll always be a Weegie—that's shorthand for Glaswegian. I'll always have my Scottish roots. Wherever you're from, if you're making that transition to America with hopes and dreams to make it in the business, you'll do well to hold onto what your roots are. That's what makes you interesting.
Who was the casting director who gave you your first big break?
Rachel Freck. I wasn't getting any roles; I hadn't grown into my face yet. I hadn't grown into who I was and what I had to offer yet. I was kind of weird looking and I had a bad attitude. Who wants to hire that? One casting director saw something for me. I went out for a one-line role in a show called "Green Wing," and I ended up being featured and I found my way in that show. I definitely give Rachel Freck the credit for finding Michelle Gomez, who was then feral, and getting me to where I am now.
How do you typically prepare for an audition?
Be as prepared as you can be. Don't go in half-winging it. Do the work, even if you get 12 pages for the next day. A lot of the time, they want to see that you can come up and do it. In television, you will get 12 pages the night before and have to shoot it the next day. If you're prepared, you're able to relax a little bit more, and then on the day, [you can] allow something magical to happen because you're not reaching for it. The whole business is just like any other industry. It's a particular set of skills, and you get better at them as you go along. It's just work. There's no shortcut. The five-minute overnight sensation is a lie. There's a lot of hard work behind this. This "I just wanna be famous" business is a lie. [And there's] so much rejection. There was a reason why my nickname at my agency was "The Roach." My agent at one point said, "You know, Michelle, you're an inspiration to my other clients. You keep getting rejected time and time and time again and squashed like a bug out there, but you grow another arm." I just kept going. There's a saying: If you stare at the rain long enough, you will get struck by lightning.