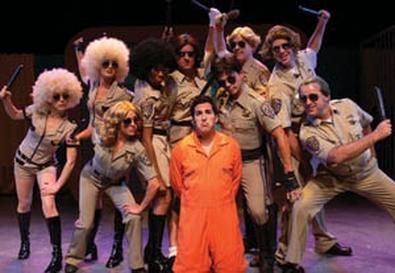 Known for mixing classics with unlikely musical catalogues, Troubadour Theatre Company pulls out all the stops with this world premiere that mocks the titular cult-classic television series. Authors-composers Rick Batalla and Henry Phillips provide a perfect framework for this company's irreverent brand of comedy with their tongue-in-cheek homage to all things 1970s. Motorcycle officers Frank Poncherello and Jon Baker, brought to life by Batalla and Matt Walker, mount a pair of souped-up kids' bicycles as they battle a group of lesbian eco-terrorists known as Gang Green.
Walker directs this madcap troupe for which nothing is too lowbrow if it gets a laugh. On the night reviewed, this extended one-act ran close to two hours but felt more like 30 minutes, given the unusual amount of gut-busting ad-libbing. Along with Walker, decked out in a feathered blond wig, and Batalla, sporting a battery-operated set of blindingly white teeth, Beth Kennedy as the albino leader of the eco-terrorists and Joel McCrary as the owner of a greasy-spoon diner are the hands-down masters of this free-flowing theatrical chaos.
Most of the songs are fairly forgettable despite clever lyrics, excellent musical accompaniment by an onstage musical trio, and Nadine Ellis' creative choreography. Still, McCrary's rendition of "Missed Opportunity" and Walker's detailing of his wife's postpartum death in "Seven Mary Three"—including the onstage birth of triplets through the jaw-dropping Cirque du Soleil style acrobatics of cast member Caroline Gross—are near showstoppers.
Sherry Santillano's scenic design includes an oversized television set housing a rear-projected screen, which allows Walker and Batalla to ride through hilarious locales thanks to videographer Jim Kunz. Their skintight uniforms, along with Gang Green's roller disco outfits and an endless array of Afro wigs, are the work of costumer Sharon McGunigle. For longtime fans, this is a must-see. For initiates, welcome to the circus!
Presented by Troubadour Theater Company at the Falcon Theatre, 4252 Riverside Drive, Burbank. June 25–July 25. Thu.–Fri., 8 p.m.; Sat., 4 and 8 p.m.; Sun. 4 p.m. (Dark July 22.) (818) 955-8101. www.falcontheatre.com.