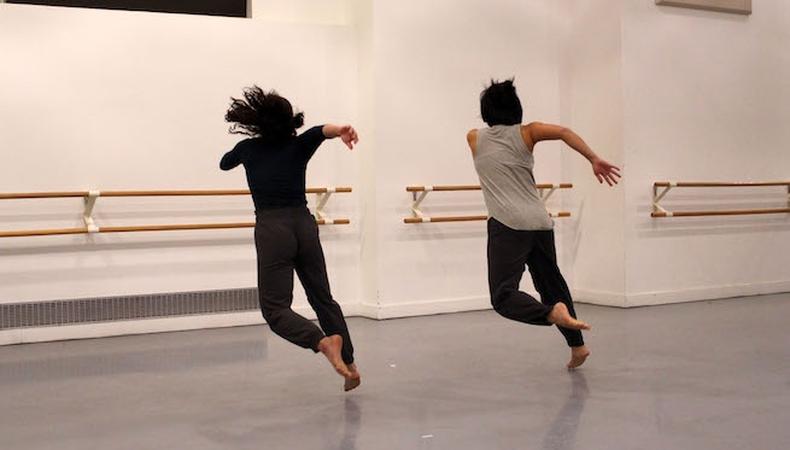 National Choreography Month (NACHMO) is an annual "choreographic kick in the pants." The challenge encourages dancers, choreographers, and lovers of movement to create material within a one-month deadline with the support of a community of peers. After creating for the month of January, NACHMO participants perform their new material throughout February in a supportive environment where feedback is shared.
Chatting with Backstage, director and co-founder Sharyn Korey shared why NACHMO is so different from other choreography festivals, what inspired her to create it, and how creativity can be explored through community.
What inspired you to create NACHMO?
In 2008, my friend Jackie convinced me to do National Novel Writing Month with her. I didn't end up with a novel, but I wrote nearly every day for a month, went to a bunch of write-ins, and ended up with over 150 pages—some garbage, but some good stuff. I was amazed at how fun and doable it was to generate all that material when everyone was working alongside each other toward the same deadline. So the following fall, my friend Anna and I decided to use the same model to get ourselves to choreograph. Three other friends joined us so there were five of us that first year. We all stated our choreographic goals at the beginning of the month and then hosted a really informal show at the end.
Why a monthlong deadline?
We bill ourselves as "your choreographic kick in the pants" and the deadline is the kick. For some people a month feels luxurious. For others, it feels frantic. But we think it's a reasonable amount of time to generate a good chunk of material.
How is NACHMO different from other festivals for early career choreographers?
I think we don't take ourselves too seriously, which encourages risk-taking. People are making work they might not make if the stakes were high but since NACHMO is open to everyone, there's a sense of camaraderie among participants. We also try to offer a variety of showing opportunities: a lot of the pieces are still in process at the end of the month and aren't ready to be shown in a theater. So people can participate fully in the dance-making part of NACHMO and choose not to show their work at the end of the month, or show excerpts of their work on our social media platforms.
Here in NYC, we also have informal studio showings where choreographers can get structured feedback and two fully produced theater shows. Other cities exhibit NACHMO work in a variety of ways depending on what the dance community there needs and is excited about, but we strive to make it a fun, welcoming, and process-oriented experience in all of our locations.
And I think that's another thing that distinguishes us; NACHMO is really just a group of dance makers and a deadline, so it's very scalable and can be tailored to meet the needs of a particular artistic community. We leave it up to our regional directors to structure NACHMO to work for their town or city.
Can anyone participate? What if they don't have a dance background?
Absolutely! We believe that the way to become a better choreographer is to see a lot of dance, make a lot of dances, and get feedback on those dances. So yes, anyone can join. The majority of our participants are dance artists, but every year we have some surprises. One year we had a bodybuilder who used NACHMO to make her competition routine more interesting.
What have been some of your favorite moments from NACHMO?
Definitely seeing the new work, and especially seeing the variety of work. It's also very uplifting to pull off a show with a large group of choreographers who all turn out to be gracious and efficient and professional.
How would you like to see NACHMO develop? What are some of your goals?
Well, we're really excited about our geographical growth. We had two new cities join last year—Chester, PA and Chicago, IL—and this year we'll have new hubs in Los Angeles, Minneapolis, and Kansas City. One of our next steps is to develop year-round programming so that we can build a stronger NACHMO community that encourages the development and refinement of the work made in January. And someday, we would love to commission choreographers; we have a lot of choreographers who return year after year, and we would love to pay them to make a piece.
What are some of the challenges you face as you grow?
Just juggling all the moving parts. And right now we're in the process of transitioning from a fiscally sponsored organization to a 501c3, which involves lots of phone calls with lawyers.
How do you register for NACHMO?
You can register easily online. Please join us!
Check out Backstage's dance audition listings!