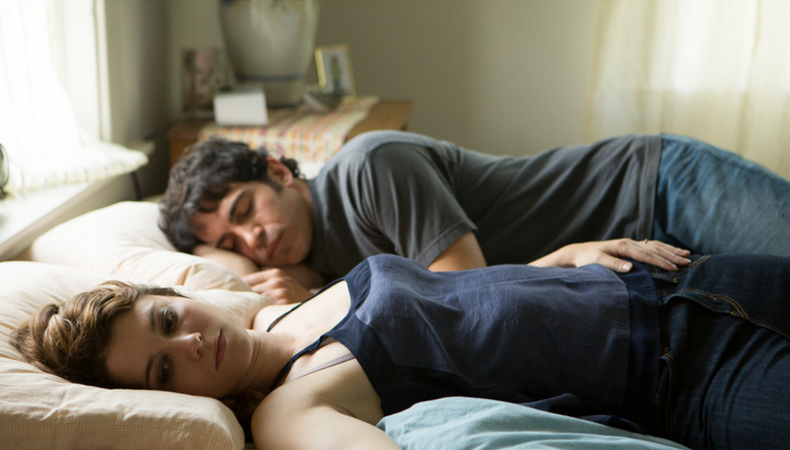 Chris Messina started his Tribeca Film Festival career on the streets of Brooklyn, playing a wedding photographer turned paid stalker in 2010's "Monogamy." His reason for returning to the festival this year could not be further from his debut.
Messina is taking on the streets of Venice, Calif., and a more magisterial position on set: director. The day before "Alex of Venice" is set to premiere at the Tribeca Film Festival, Messina's in a New York City cafe chatting with Backstage over a cup of tea, telling all about his newest film and doing double duty to get it done.
Best known for playing Danny Castellano—Mindy Kalig's love interest on "The Mindy Project"—Messina was acting for the Fox television series, and simultaneously putting the final touches on his film. "I was editing sometimes from my trailer," he says, "or they'd be putting my mic on me and about to shoot a scene on 'The Mindy Project,' and I'd be on the phone with the editor giving notes; it was like two full time jobs...I wouldn't do that again."
In "Alex of Venice" Messina also takes on a small acting role, playing a man who needs to take a break from his marriage, a decision Messina says was deliberate. "I didn't want people to think I was making the movie just to act," he explains, "and I didn't even know if it could handle both."
The film follows the titular character, played by Mary Elizabeth Winstead, as she fights to keep her job as environmental lawyer, her role as a mother, and her eccentric father (Don Johnson) in check, without the support of her husband.
A fan since seeing her on "Smashed," Messina felt Winstead's talents were well-suited for the film. "When I saw her audition, I was blown away," he admits. "The trick with Mary is just to stay out of her way because she doesn't need my direction…If I have to guide her right or left, that's fine, but she was connected to the part, she didn't need me—she just needed me to shut up."
He kept his silence when directing Winstead, but Messina's voice and vision as a director comes through loud and clear in the first five minutes of the film, carrying through to the end. Supported, but not driven by dialogue, much of Messina's storytelling is visual, dropping clues about the storyline in degrees. It was a choice partly achieved by not stopping the recording between takes.
"It created some moments that didn't have a lot of acting in it and it was helpful for me when I was in editing to find some truth," he says. "I got to meet Francis Ford Coppola before I did this movie and he said to do silent takes; so we would do the scene in silence...sometimes it was completely boring, sometimes people would just start laughing, sometimes something would happen that was magical and it made it's way into the film."
He says being a director gave him a new appreciation for his own craft, as well as that of everyone's on set. Before "Alex," he wasn't aware just how essential each person in a film crew is to the final product.
"The actors usually get a lot of credit, and the director, but no one really talks about—well, not nobody, but I certainly wasn't talking about it—the production design," he says. "If we were shooting this scene in a coffee shop, just the napkins; even this," he says motioning to a pepper grinder and some spilled pepper on a dish, "the reality of this," picking up an empty tea bag wrapper, "all that stuff pulls you into a movie or into a scene."
He's got plenty of knowledge now, but Messina wasn't always the multi-talented actor-director we see before us. At 21 years old, the actor had just relocated to New York City and had yet to even earn his Equity card.
"I crashed [an] audition. You had to be Equity; I wasn't," he says. "For some reason they let me in…[The play] was about these two boys that had stolen a bunch of drugs and they were hiding out in a subway bathroom; in this bathroom they find this old homeless man...and just craziness ensues."
Messina goes on to tell how he landed the role of understudy for both of the boys, in addition to the assistant stage manager position for the production, qualifying him for his Equity card. For one performance he was made to play the 50-year-old homeless man and failed miserably. He knew none of the lines and had to tape them all over the stage.
"But because I had that experience, a week or two later I auditioned for an Arthur Miller play at the Signature Theatre. Arthur Miller was alive and I got the part," he recalls. "I was so nervous for Arthur Miller. He was in the room when I auditioned. I remember thinking, 'I just went on stage for about 500 people and I didn't know a single line—I can do this part.
"I swear to God it was because I crashed that audition I got in Backstage...The moral of the story is don't follow the rules."