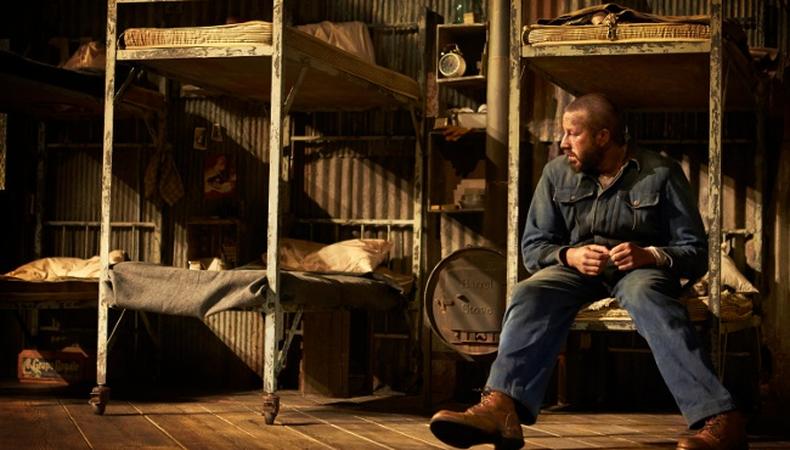 Every day that he's performing as Lennie in "Of Mice and Men," Tony nominee Chris O'Dowd walks almost 30 blocks to the Longacre Theatre on West 48th Street from Greenwich Village—and transforms.
"I just move my coccyx on its axis a little, in a way that a baby almost moves from its bellybutton," O'Dowd explains. "That really elevates me in some way into the role."
When he first began his walks, O'Dowd's transformation took much longer. But as the show's gone on, he says, he's needed less time.
Opposite James Franco as George in John Steinbeck's classic story of doomed have-nots, Lennie is a sometimes not-so-gentle giant suffering from some implicit intellectual disability, and his physicality was something O'Dowd set out to perfect. "Finding his walk was very, very important," he says. "He's kind of referred to as a baby, and at various times in the stage directions as moving like a bear."
But the walk was just the beginning of playing a character as delicate as Lennie. "You don't want to get playing a disability wrong, for loads of reasons," O'Dowd says, "but I felt like through trial and error and just a lot of observation, I ended up playing something I'm happy with."
Because Steinbeck never explicitly states the nature of Lennie's disability, the Irish actor did his best to interpret it. A neighbor of O'Dowd's in London who has mild Down syndrome served as his inspiration. "I tried to imagine him in this part and it seemed to fit well," he says. "His view of the world, his mannerisms and whatnot—and then essentially I just decided to mimic him, because I felt that was a way to know that what I was doing was honest. And then, I guess, after feeling comfortable in that I started trying new stuff with it.
"You can interpret [the material], but as long as you know it's based on something true you always feel honest as a performer," he adds.
What O'Dowd ended up with is something extraordinary, particularly given his lack of familiarity with previous incarnations of the material.
"I've never seen a production of the play and I've never seen the film, so I feel kind of unburdened by the expectation of that," he says. "The day after we finish, I'm going to watch both movies, and I'm pretty sure I'm gonna watch them and feel like, Ah! That's what he meant! There will be a few lines in there that I never fully understood, that I'll be like, Ah, shit, that's what he meant! [John] Malkovich [Lennie in the 1992 film] got it!"
As far as everyone else is concerned, O'Dowd certainly "got it." The recognition has been overwhelming, something he never expected from the experience. Nominated for best actor in a play, O'Dowd is up against actors he very much respects: Bryan Cranston and Mark Rylance.
"The company that I'm in is…it's really incredible," he says. "I've spent maybe 100 hours watching Bryan Cranston in the last two years on Netflix. And Mark Rylance taught me a class in drama school, so I think maybe he's the greatest stage actor of our generation."
And with "Of Mice and Men" serving as his Broadway debut, O'Dowd is emerging as one of the same.
Inspired by this post? Check out our Broadway audition listings!