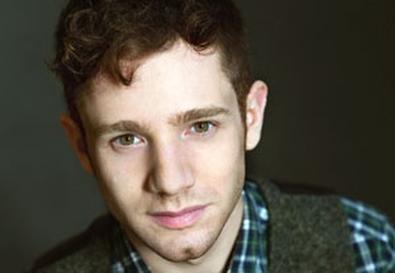 Chris Perfetti
is in awe. The Rochester, N.Y., native, who graduated from SUNY Purchase in May, is making his New York and professional stage debut in
Roundabout Theatre Company
's critically acclaimed Off-Broadway production of "Sons of the Prophet," and he still can't believe it.
"In school you spend four years in a bubble, and you meet fantastic, talented people," Perfetti says. "Roundabout has held my hand in the best possible way and shown me how effing amazing this all really is."
Perfetti plays the charmingly sarcastic Charles in Stephen Karam's tragicomic play about a Lebanese-American family in rural Pennsylvania coping with mounting tragedy. In between shows on a chilly November day, Perfetti sat down with Back Stage to talk about how he was cast in the project, his preparation for the role, and identifying with the character.
While Perfetti's tale of school-to-stardom might seem like an anomaly in the acting world, he encourages other performers to never discount their aspirations.
"The distance from where you are to where you want to be is so much shorter than you think," he says. "And you can really make whatever your dreams are happen."

Back Stage: How did you get involved in "Sons of the Prophet"?Chris Perfetti:
[Roundabout casting director] Carrie Gardner brought me in for this play. I had been in for her a lot before, and nothing was really the right fit. That's what you experience as an actor—just finding the right fit. When this came up, I just knew that this character was super close to me, and I think she knew, which is why she brought me in. I had a great time auditioning with her, and then she brought me in for the director and all the Roundabout folk. Then they did, like, a read-through of the latest version of the script in July because Stephen had done a lot of work on it. They brought in most of the cast to do this reading, and they asked me to come in and read Charles. That was sort of like a final callback for me, I guess. Then I found out that they wanted me to play the part.
Back Stage: You mentioned that you're similar to Charles. How do you identify with the character? Perfetti:
I don't want to give anybody the wrong idea. No, he's great. He's fantastic. He's so heartfelt and easy-spirited and extroverted, which I think I am in a lot of ways. Obviously I haven't experienced the grief or the trials that Charles has. But we all have in our own way experienced tragedy. Technically, we're very similar in age. I think we're both a little bit of loners and we like to do our own thing, and maybe that comes off as quirky or weird.
"Sons of the Prophet" (Photo by Joan Marcus)


Back Stage: How did you prepare for the role?Perfetti:
The greatest thing about working on a new play has been this idea that the character Charles can be me, and I can be this character Charles. There's nobody that has done the role. There haven't been 1,000 productions of this play. It's not an iconic role yet. So I can bring so much of myself to it, just as far as the backstory that we come in with. Charles and I are obviously very different: His religion. His heritage. There was a lot to learn about what it means to be a Maronite Catholic, what it means to grow up with a Lebanese family, and also what it means to grow up in a small town. I didn't really have that experience. What it means to be gay in a small town was a huge part of forming who Charles is. It was just about learning about the things about Charles that I don't know and sort of assuming that they're mine and going with it.
Back Stage: Charles is also deaf in one ear. Was that difficult to play onstage?Perfetti:
That's another huge difference. I obviously can hear in both ears. What I found with Charles is anybody who is struggling with some sort of disability, they're trying to come across as normal as possible. It wasn't really about learning what it means to only be able to hear out of one ear, which is definitely something I did in my bedroom alone. It's more about what that does to you as a person. People who are drunk onstage are most of the time trying to pretend like they're not. So I sort of approached it the same way.
Back Stage: The play is both comic and tragic. How did you balance those dynamics as an actor?
Perfetti:
I don't think anything has to be done. Just the sheer amount of tragedy that they experience sort of makes people laugh, because that's just how we deal with things sometimes. As far as the comedy, a lot of it is just so subtle that nothing really has to be done. Nothing really funny happens in the play. The play doesn't rely on the comedy. It's rooted in this very serious story, and it's going to happen whether people laugh at it or not. But I think just the profundity of the tragedy makes people laugh. And because that's just how we deal with things as an audience when we empathize, we laugh to keep us from crying. Or we laugh because we can see ourselves there.
---
---
Back Stage: How did you know you wanted to be an actor?Perfetti:
I really don't know. I knew that I always wanted to be the center of attention, so that sort of took form in acting. There were fantastic regional theaters in Rochester that sort of taught me what it is to actually be an actor. I did New York State Summer School of the Arts, which is a conservatory-style thing, and then I went to a conservatory for college. I learned and fell in love with acting and not being the center of attention. It still sort of boggles my mind [that] if I hadn't, where I would be or what I would be doing, because I just think it's so fantastic. It was sort of by mistake, I guess, that I fell into it.
Back Stage: What's your acting style?
Perfetti:
I rely a lot on the other people that I'm up there with. They make it super easy. I don't subscribe to any sort of methodology. Probably would change from project to project. My performance takes a lot of my imagination and a lot of my relaxation.
Back Stage: Relaxation?
Perfetti:
Yeah, it requires that. A lot of effort or overthinking gets in the way of revealing who you really are and, in this case, who Charles really is. So it's about being okay with exactly where you are in any moment onstage and being totally relaxed to let anything happen.

Back Stage: Do you have any dream roles?Perfetti:
[SUNY] Purchase taught me to love all those guys who came before me. I thrive on working on new plays, but I have a serious love for all of our great American playwrights and Shakespeare and Chekhov. I sort of love those classic plays that we're not doing as much anymore. I would love to play Edmund in "Long Day's Journey," all of those classic roles that guys my age want to play. I hope I get to do those before I get too old.
"Sons of the Prophet" is playing at the Laura Pels Theatre, 111 W. 46th St., NYC through Jan. 1. www.roundabouttheatrecompany.com.