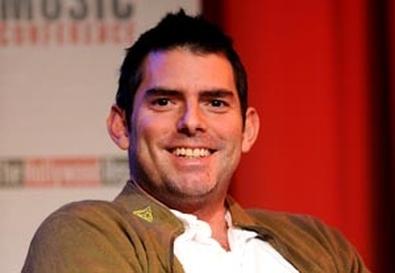 Along with his brother Paul, Chris Weitz made a name for himself helming comedies, beginning with the first "American Pie" in 1999. That was followed by the Chris Rock vehicle "Down to Earth" and "About a Boy," the latter of which earned the brothers Oscar nominations for their screenplay adaptation of Nick Hornby's novel. Then there was a departure into what Weitz refers to as his "special effect/talking animal period"—adaptations of the popular books "The Golden Compass" and "Twilight: New Moon."
But now Weitz emerges from those big-budget spectacles with his most intimate and moving film to date, "
A Better Life
," which chronicles the story of single father Carlos (Demián Bichir), an illegal immigrant in East L.A. who works as a gardener and aspires to start his own business to provide a better future for his teenage son, Luis (José Julián). It's a beautifully examined slice-of-life story that will strike some as a wild departure for the man once known for the movie in which Jason Biggs copulated with pastry. But Weitz is full of surprises. Other facts about the talented filmmaker:
1. He looks like an actor
—
and is. Sort of
.
More than one person has remarked on Weitz's resemblance to actor Adam Scott ("Parks and Recreation"), so it's amusing to discover Weitz doesn't know who that is. "I'm terrible with names and faces, which is not a good thing in my business," he admits. "I'll lump people into broad categories like 'the guy with short hair.' " Growing up, he admits, he was often compared to Christopher Reeve. Weitz has appeared onscreen in two fairly noticeable roles—as the title character Chuck Sitter in Miguel Arteta's "Chuck & Buck" and as a neighbor to Brad Pitt and Angelina Jolie in "Mr. & Mrs. Smith."
Asked why he doesn't act more, he responds simply, "Because I'm not very good." The role in "Chuck & Buck" came about because Arteta knew Weitz's brother and wanted to cast nonactors who looked alike. "All I had to do was act uncomfortable, and I was so uncomfortable in front of the camera, it was easy," Weitz says. The "Mr. & Mrs. Smith" role came about when his then-girlfriend, Heather Graham, was going to play a neighbor, and the filmmakers thought it would be funny to cast Weitz as her husband.
"Then Heather dropped out, and I didn't have the good manners to remove myself; I just waited around for someone to fire me. And they didn't." Weitz says he would welcome a return to the screen—he thinks he would have made a great Spock in "Star Trek"—but no one is offering. "I'd love to act again, but nobody's asked. And they're right not to."
2. He has a great eye for talent
.
Weitz's films often feature new talent who go on to impressive careers. In addition to discovering the "American Pie" cast, Weitz and his brother cast an unknown Nicholas Hoult in "About a Boy." Hoult has recently gone on to such notable projects as "A Single Man" (which Weitz produced) and "X-Men: First Class." With "A Better Life," Weitz settled on Julián, who was 16 at the time of shooting and had no acting experience beyond school plays.
"It helps to work with a great casting director," says Weitz, who has employed Joseph Middleton on all his films. For "A Better Life," Middleton worked with Carla Hool, a prominent CD in Mexico. "Carla found José on an open call, and he had to take three buses to get to the audition," Weitz recalls. "Whenever you're casting an unknown, you just kind of hold your breath because you don't really know what being in front of a camera is going to do somebody. He reminds me of Nick in that both are thoughtful and serious, but still great kids. You hope not to turn anyone into a monster when you give them this kind of poison chalice. But I think José will be fine; he's already interested in directing."
3. His response to the script for
"A Better Life"
was
"psychotic
."
Weitz was first given Eric Eason's screenplay by his friend Christian McLaughlin, a producer on the film. McLaughlin knew Weitz's grandmother was Mexican, and thought he could offer feedback. "Christian didn't expect me to direct it; he just wanted to know my response, but I went psychotic for it," Weitz recalls. He was pleasantly surprised that the story wasn't preachy or obvious. "To me, this isn't a tub-thumping, liberal movie," he says. "Even the immigration people in the movie are capable of displaying humanity; they're just doing their jobs. There are no saints or sinners. Everyone is doing the best that they can with a difficult situation. I don't think there are any villains."
4. Authenticity was vital to the film
.
Weitz worked closely with several members of the Latino community, most notably Father Gregory Boyle, who founded
Homeboy Industries
, which helps former gang members find employment through its many businesses—including a bakery, a café, and a silk-screening business—and offers services such as tattoo removal and counseling. "He really put the social resources of Homeboy Industries at our disposal, which helped us tremendously because we were able to go into neighborhoods that otherwise might not have welcomed us," Weitz notes.
In addition, almost all the gang members in the film are played by people he met at Homeboy, including
Richard Cabral
, who has a memorable turn as a gang leader and has since had an arc on "Southland." In addition, the majority of the crew was bilingual and would help him with the jargon, which could vary from block to block. "I had this amazing director of photography, Javier Aguirresarobe, who is Spanish and shooting his first film in L.A. My [assistant director] was Puerto Rican. The crew was largely Mexican-American. So we had concentric circles of BS meters along the way to let us know if anything was off."
5. Acting has made him a better director
.
Though he disparages his own acting, Weitz admits he learned a lot from the experiences. "People think it's simple: You just go and pretend for a while," he says. "But not only are the technical aspects difficult, but to impersonate another human being in the gimlet eye of a camera is not an easy thing. I gained a tremendous amount of respect for actors and the pressure they're under. They're sprinters and they have to be ready to run emotionally at any moment."
Weitz says he generally finds himself drawn to "underplayers and technicians." He says, "Sometimes a great, big performance can be a great thing. But I tend to cast people who people who play it small. You can always take them bigger."
Up next for Weitz is a much-needed break. "Right now, I have a serious case of burnout on directing," he confesses. "I did a couple movies back to back and that part of my brain is worn out. I love working with actors and crews but the logistical parts started outweighing the fun parts." He admits, however, that it was nice to return to a small film like "A Better Life" after the madness of franchise movie "New Moon." He says, "The 'New Moon' press tour was like being with the Beatles. The screaming haunts my dreams."
On Demián Bichir
Be prepared: "A Better Life" packs an emotional wallop. Weitz jokes that he uses something called a "sniffle meter" when he checks in on screenings. "I can hear a certain amount of sniffles and see people going to wipe their eyes." He gives a lot of the credit to his star, Bichir, who starts out a very stoic character but begins to reveal a complexity and humanity beneath the surface.
Weitz was familiar with the actor from his performance as Fidel Castro in "Che" but not with his work on the Showtime series "Weeds" or his lengthy theater career. "When I started thinking about him, I saw some of his films made in Mexico and thought, 'This is the guy. He's my horse.' And my aim, if nothing else is, is to see him get nominated for this performance."