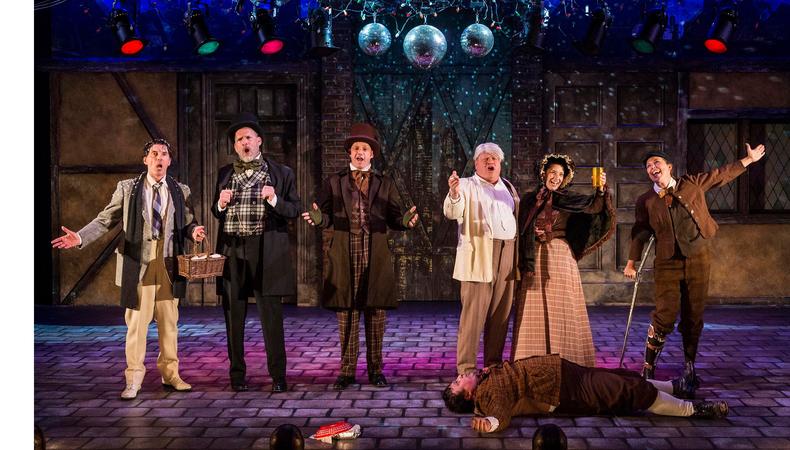 The world doesn't need any more stage versions of the exhausted classic "A Christmas Carol," but as this new Second City and Center Theatre Group production points out, it's in the public domain, so why not spoof it? The theater group and legendary comedy company have teamed up to create something that is, of course, funny, though it's no masterpiece.
Written by Peter Gwinn and Bobby Mort, both of "The Colbert Report," the show is a hodgepodge of holiday mockery. Dickens' "A Christmas Carol" is referenced in the title, but scenes based on the well-known tale are really just used as punctuation between episodes of sketch comedy and improv that take on the entire Christmas genre. In addition to Scrooge and Tiny Tim, we meet George Bailey of "It's a Wonderful Life," the whole "Peanuts" gang from "A Charlie Brown Christmas," and many more.
An audience plant (Frank Caeti) calls out to heckle the actors a few times, complaining that the structure of the show is disorganized. You might agree with him. Don't go expecting any one thing in particular. This is not Dickens, Stephen Colbert–style satire, fast-moving sketch comedy, or audience-interactive improv. It doesn't know exactly what it wants to be, and that is the biggest weakness of director Marc Warzecha's staging.
The scenes are funny and well-performed but completely random. One bland sketch about a shallow woman complaining about her boyfriend's gift of jewelry is particularly inexplicable. Excessive, forced pop-culture jokes also fall flat. Other sections fare much better. The barbershop quartet, which opens the show, warms the audience up for a night of amusement. The scene in which we meet Tiny Tim's playmates, all of whom suffer from Victorian ailments, is also hysterical.
The unstructured script alone might not be worth the ticket price. But CTG and Second City have pulled together a number of comic talents who make the production satisfyingly fun. Dan Castellaneta, most commonly known as the voice of Homer Simpson, is hilarious in his multiple roles. His spot-on Jimmy Stewart impression is one of the show's highlights. Ron West, as grouchy Ebenezer Scrooge, nails the difficult task of playing straight man to a stage full of goofballs. Jean Villepique's Tiny Tim is adorably earnest. Larry Joe Campbell's hung-over Ghost of Christmas Present is nauseating (in a funny way).
Just because "Twist Your Dickens" is decidedly silly doesn't mean that its technical elements haven't been taken seriously. The design is far superior to that of your average production of "A Christmas Carol." Tom Buderwitz's set includes several moving platforms, a gravestone that lights up, and Victorian architecture that's detailed down to the shingles. Many of Leah Piehl's costumes are designed so cleverly that they elicit laughs on their own.
This version of Dickens' classic won't live on nearly as long as the original. But it doesn't really matter. The audience laughed and applauded, and in its twisted way the show spreads just the right amount of holiday cheer.
Presented by Center Theatre Group at the Kirk Douglas Theatre, 9820 Washington Blvd., Culver City. Nov. 29–Dec. 30. (213) 972-7376 or www.centertheatregroup.org.
Critics Score: B+