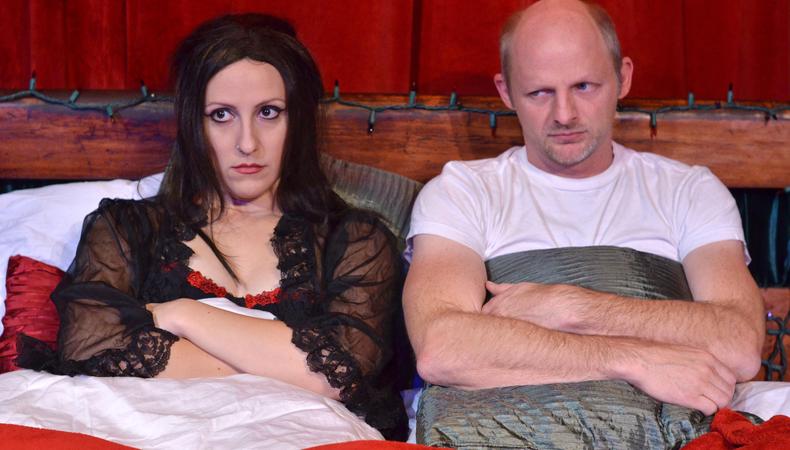 There are plenty of us who are somewhat like Colin, the squirrelly Brit at the center of playwright Guy Picot's "The Christmas Present." Without any immediate family to spend the holiday with—the closest he comes is an ex-wife—Colin is simply "not on the Christmas map." But there may not be too many of us who'd choose to spend our Christmas with a prostitute in a cheesy hotel room. We also might not bring along a nasty-looking knife if we did. So it's a good thing that we can have a delightful time as interlopers, watching just what satisfying surprises are revealed in this bittersweet seasonal comedy.
Actor Troy Blendell could not be more perfect as the lost soul who's bought "the full Christmas package" and plans to spend Christmas Eve through December 26, British Boxing Day, with a hooker who advertises herself as "Salome." But for Colin, it's not just about achieving biblical proportions in bed. Terribly proper, his prime motivation is clearly not the chance to unwrap the sweet, kittenish young woman whose real name is Holly (Sasha Higgins) and at first seems almost reluctant to take his money. What Colin wants is to erase all of the horrible holidays of his past, the "traditional shit Christmases," by snuggling up, sharing comfort and joy, and pretending it's all real. But then again, there's some anger there, so maybe he's looking to get something else entirely out of the unorthodox assignation.
In a rewarding and understated way, Picot's smart script keeps us guessing without feeling manipulated or confused. When—spoiler alert—the playwright reveals that Holly is only a fantasy and the real-life version of Salome, in the form of truth-telling, straight-talking Debbie (Mandi Moss), shows up, he's got us just where he wants us.
Picot also directs, eliciting terrific performances from his three actors. The production is crisp, clear, and full of nice little moments from beginning to end. When he's with Holly, Blendell's Colin is as adorable as she is; their perfect and lovely pairing has a too-good-to-be-true authenticity. But the real payoff is in Colin's matchup with Debbie, whose stripped-down honesty in Moss' hands is fabulously nuanced and powerful. Oh, and props to the playwright for not dipping into the "she wants it as bad as he does" well when it comes to sex workers.
This isn't a wild and edgy comedy; it's not even particularly outrageous, and we don't quite take the danger element seriously. But when you put it all together, "The Christmas Present" is just the sort of evening that some of us have been looking for this time of year.
Presented by and at Sacred Fools Theater Company, 660 N. Heliotrope Dr., L.A. Dec. 4–23. (310) 281-8337 or www.sacredfools.org.
Critic's Score: A-