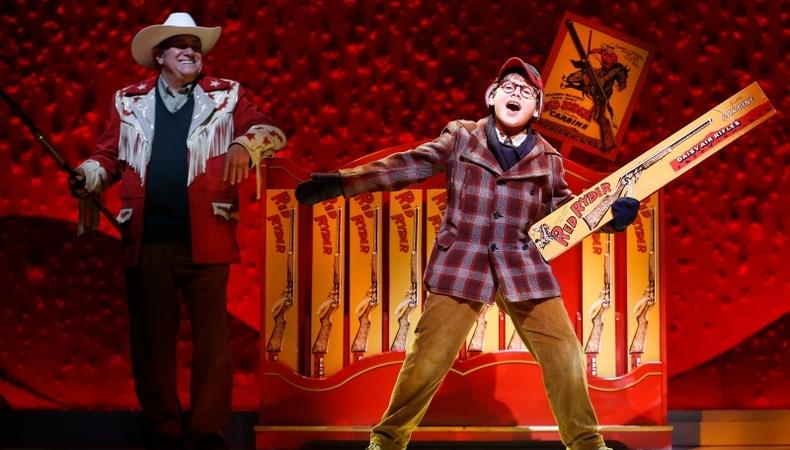 "A Christmas Story: The Musical" is yet one more attempt to mine Broadway dollars out of a popular holiday tale. There's really no reason that the largely narrative-free 1983 MGM film, based on a collection of short stories by humorist Jean Shepherd called "In God We Trust; All Others Pay Cash," needs to be a musical. But apparently today's audiences are entranced by the comforting familiarity of works they already know and love. There were plenty of moments at the performance attended when the patrons seemed to be applauding themselves for recognizing a line or a scene. Laughter often preceded a punch line. It's not a phenomenon I understand, but if you are going to musicalize something for such inorganic reasons, "A Christmas Story" is the way to do it: with taste, intelligence, and affection.

It helps that Shepherd's reminiscences of his youth in 1930s Indiana ring with truth and gentle wit. Joseph Robinette's efficient book sets the musical specifically in December 1940, the last Christmas before America joined the war, lending it an air of innocence about to be lost. What story there is involves 10-year-old Ralphie Parker's determination to get a Red Ryder Carbine Action BB gun for Christmas. His mother, his schoolteacher, and even Santa Claus say no, because "you'll shoot your eye out." In what is little more than a random collection of vignettes, we see Ralphie and his younger brother, Randy, coping with local bullies; Ralphie indulging in Saturday-afternoon-serial fantasies of saving folks from the bad guys with his gun; Dad's own fantasies about winning a crossword contest that will prove his intelligence and earn him "a major award"; and more. Mother takes care of her three boys and shakes her head smilingly at all their shenanigans.

Songwriters Benj Pasek and Justin Paul, who made an auspicious NYC debut earlier this season Off-Broadway with "Dogfight," have provided a melodic, well-crafted pastiche score that's more dutiful than inspired. It's possible that they have been hamstrung by being required to stick religiously to the original; still, the songs, though not always necessary, are never unwelcome. Director John Rando keeps the production's tongue lightly in its cheek while moving things briskly along, helping to disguise the episodic structure. Choreographer Warren Carlyle contributes some crackerjack routines, especially an amusing can-can, a loopy kick line, and a dynamite tap number showcasing the amazing work of 9-year-old Luke Spring, a born scene-stealer. Set designer Walt Spangler's delightful snow-globe sets are a major asset.

The large and able cast is led by the entirely wonderful Johnny Rabe as Ralphie and the effortlessly authentic Dan Lauria as grown-up Ralphie, delivering the film's dry voiceover narration while inventively integrated into the action by Rando. John Bolton displays top physical-comedy chops as Dad, while Erin Dilly fills pre-feminist Mom with a natural sweetness that never cloys. Zac Ballard is a charming Randy, and Caroline O'Connor is a triple-threat talent, singing, dancing, and clowning expertly as Johnny's teacher.

"A Christmas Story" is an unlikely animal: a cynical commercial entertainment with a soul.
Presented by Gerald Goehring, Roy Miller, Michael F. Mitri, Pat Flicker Addiss, Peter Billingsley, Timothy Laczynski, Mariano Tolentino Jr., Louise H. Beard, Michael Filerman, Scott Hart, Alison Eckert, Bob Bartner, Michael Jenkins, Angela Milonas, and Bradford W. Smith at the Lunt-Fontanne Theatre, 205 W. 46th St., NYC. Nov. 19–Dec. 30. (877) 250-2929 or www.ticketmaster.com. Casting by Stephanie Klapper.
Critic's Score: B