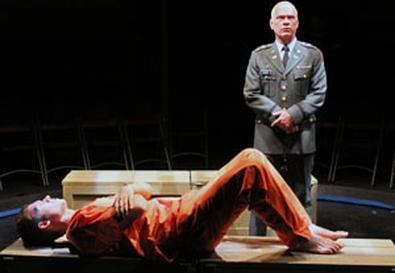 Bill Cain's electrifying psychological drama was inspired by Dante's epic poem "The Divine Comedy." The play follows the plight of a 19-year-old army private on trial for allegedly committing atrocities against Iraqi citizens while on the war front. The play raises fascinating and disturbing questions surrounding several issues—including the moral confusion of war, callous political motives behind international combat, and universal matters of spirituality and redemption. The taut direction of Justin Zsebe, Patrick J. Adams' tour-de-force turn as Pvt. Daniel Reeves, and the contributions of three exemplary ensemble players ensure a profoundly challenging experience.
The play is structured in nine segments, suggesting the nine-stage journey through the darkness of hell toward a revealing light, as depicted in Dante's poem. Each two-person scene is between the incarcerated Reeves and an authority figure (multiple roles shared by Paul Dillon, Joe Holt, and Arlene Santana), dramatizing various stages of the youth's progression toward redemption. Reeves is forced to reflect on the charged crimes, particularly the murder of an Iraqi family, in which he allegedly raped and set afire the 14-year-old daughter. It's clear he's riddled with anger and confusion—diagnosed as personality disorder. But is he guilty?
Adams' characterization is riveting, as he masters a role requiring great physical stamina, including rigorous onstage workouts and intense emotional transitions. Tackling a character more than a decade younger than he is and effecting a flawless Texan drawl, the actor is fully convincing and deeply moving. His work is complemented by sublime supporting portrayals. Dillon excels as an army attorney who explains to Reeves how the youth could be a pawn in political machinations. Holt's best segment is as an outspoken pastor who cites biblical anecdotes in prompting Adams to ponder his alleged crimes. Santana is superb as the military psychiatrist determining whether Reeves should be discharged.
Zsebe's in-the-round staging elicits a stark immediacy, enhanced by Jason Adams' minimalist set. Cain's dense text—dominated by philosophical discussions and literary allusions—requires careful attention to appreciate its myriad intellectual riches. Meanwhile, this important work packs a powerful emotional punch, examining timeless social issues with insight and compassion.
Presented by and at the Bootleg Theater, 2220 Beverly Blvd., L.A. Oct. 21-Nov. 12. Thu.-Sat., 7:30 p.m. (213) 389-3586. www.bootlegtheater.org.