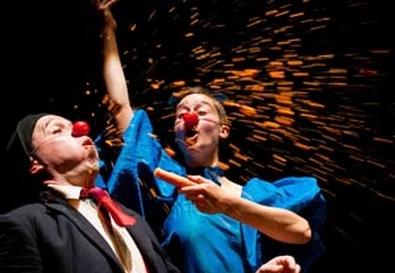 Less is definitely more at "Cirque de Légume," a wildly funny clown act consisting of two bug-eyed Irish buffoons, a chair, and a box full of vegetables. Performed in one of the tiny upstairs theaters at 59E59 Theaters as part of the 1st Irish festival and staged with gleeful abandon by Pablo Ibarluzea, this miniature circus employs leafy edibles and tons of comic ingenuity to satirize extravaganzas like Cirque du Soleil and pay tribute to the urge to perform, even when all you have for props are yesterday's leftovers.
Wearing red noses and baggy costumes, Jaimie Carswell and Nancy Trotter Landry transform a head of lettuce into a recalcitrant show dog, project chewed-up carrots all over the stage, hypnotize each other with a leek, and, in the most hilarious sequence of the 55-minute show, peel an onion as if they were doing a striptease. Carswell plays the leader of the two-person troupe, while Landry is the eager assistant. Both are engagingly goofy, but Landry steals the show with her expressive eyes and uninhibited physicality. She throws herself so completely into an impersonation of a seal that you totally forget she's human as she unsuccessfully attempts to leap onto a chair using only her flippers. She's also a hoot as she gives a riotous parody of a sensual dancer while peeling that onion.
The only quarrel I have with this vegetarian treat is the tendency to milk the purposefully awkward pauses between the bits. The performance opens with the duo trotting on stage and then staring uncomfortably at the audience for far too long. The intention is to demonstrate the clown characters' amateurishness and their astonishment at actually finding themselves on stage. The premise is immediately established, but then extended unnecessarily and repeated after every sketch. It detracts from the fun the performers and spectators have been having with their vegetables.
Presented by Cirque de L
é
gume as part of 1st Irish 2011 at 59E59 Theaters, 59 E. 59th St., NYC. Sept. 11–Oct. 2. Tue.–Thu., 7:30 p.m.; Fri., 8:30 p.m.; Sat., 2:30 and 8:30 p.m.; Sun., 3:30 and 7:30 p.m. (212) 279-4200 or www.ticketcentral.com.