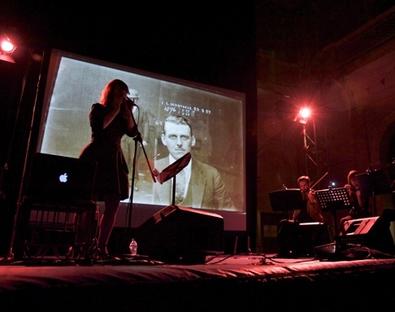 In "City of Shadows," an hourlong award-winning song cycle from Australia, a series of photographs flashes on a large screen as writer-director Rachael Dease sings 10 songs about loss, pain, and love. The emphasis is placed squarely on the visuals, which are part of a trove of forensic photographs taken in Sydney in the 1920s that detail bloody crime scenes, twisted corpses, and mug shots. There is no story or narrative. Instead, as one beautiful image succeeds a horrific one, an impression of life's fragility and preciousness begins to haunt our consciousness.
A string quartet provides sometimes jittery, sometime ethereal music that enhances the contemplative spell cast by the photographs. Dease's poetic lyrics are the least effective element of the show, their generality paling beside the specific richness of the photographs, but they do nothing to disrupt the power of this unique and compelling work of theater.
Self-presented as part of the New York International Fringe Festival at the Robert Moss Theater at 440 Studios,440 Lafayette St., NYC. Aug. 21–26. Remaining performances: Wed., Aug. 22, 7 p.m.; Thu., Aug. 23, 9:15 p.m.; Fri., Aug. 24, 6:15 p.m.; Sat., Aug. 25, 4:15 p.m. ; Sun., Aug. 26, 4:45 p.m. (866) 468-7619 or www.fringenyc.org.
Critic's score: A-