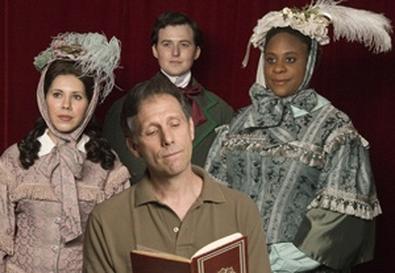 A fluid compilation of historical text, drawn from diaries, letters, and other Civil War–era writings, and period songs, formulaically arranged by Mark Hayes, "Civil War Voices" is a soul-stirring crowd pleaser. Created by James R. Harris, the 90-minute show is deftly performed by 10 terrific actor-singers, well-staged by director-choreographer Dennis Courtney, and energetically accompanied by violinist Austin Hartman and musical director Laura Bergquist on keyboard. It suffers, however, from an apparent distrust of vocal solos and a related confusion regarding whether it's a concert or theater piece.
Inspired by Harris' discovery of a diary kept during the Civil War by his great-great-uncle, an Alabama cotton planter, the production illuminates the turbulent times through the personal stories of the planter, a married couple from Texas who get separated by the war, a college professor from Maine who enlists in the Union army, and Elizabeth Keckley, the former slave who became Mary Todd Lincoln's personal assistant and trusted friend. But each time one of the characters begins to sing—heightening the emotions conjured by the engaging and frequently humorous text—the rest of the cast charges on stage to join in the song, turning virtually every musical selection into a robust choral affair. Why is Keckley, as she comforts Abraham Lincoln on the death of his son, permitted to sing only one stanza of "Amazing Grace" before the stage is invaded by everyone else, her tender rendition catalyzing a full-scale production number complete with ensemble choreography and waving flags? What is more important here, allowing a solo actor to mine the truth of a dramatic moment or rushing into applause-generating choral indulgences?
Overall, "Civil War Voices" is splendidly entertaining. And therein lies the bigger problem. Next year we will commemorate the 150th anniversary of the start of the Civil War. If a production insists that we salute this most shameful, divisive event in American history, it needs to offer a fresh, more thought-provoking or nuanced reconsideration of the past, rather than just encouraging us to enjoy the sounds and words that such a disgraceful event brought forth.

Presented by Alma Villegas, Bob Ost/Wildly Productive Productions, and Rough and Ready, in association with Sheila Simon Geltzer and Jaye Maynard/PlaidBird Productions, as part of the Midtown International Theatre Festival at the Abingdon Theatre Arts Complex's June Havoc Theatre, 312 W. 36th St., NYC. July 24–Aug. 1.

Remaining performances: Mon., July 26, 8 p.m.; Wed., July 28, 6 p.m.; Fri., July 30, 5:45 p.m.; Sun., Aug. 1, 5 p.m. (212) 352-3101, (866) 811-4111, www.theatermania.com, or www.midtownfestival.org. Casting by MKA/Moss Kale Anastasi.