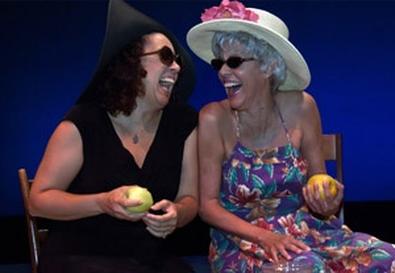 Lane, a physician who cannot heal herself, has been trying to revive her depressed housekeeper, Matilda. But Matilda's life's goal is to create the world's most perfect joke. Matilda loves to laugh and hates to clean. Virginia, Lane's sister, hates to laugh but loves to clean, enjoying the sense of progress it provides and the way it takes her mind off her sadness. Lane's husband, Charles, has fallen in love with Ana, an older woman on whom he performed a mastectomy. In Sarah Ruhl's paean to healing and forgiveness, the characters toss off old patterns and expectations, enjoying the feeling of seeking perfection but letting go of the compulsion to reach it.
Caryn Desai directs with smarts and affection, as all-too-human situations unfold in thoughtful and original metaphors, and as improbable situations unfold as if daily occurrences. Ruhl's play touches on universal chores such as folding laundry, as well as moments of magical realism such as the teleportation of apples discarded by the ailing Ana from her colorful balcony into Lane's sterile living room (set design by Stephen Gifford).
As Matilde, Eileen Galindo gives a magnificent performance, as rooted in truth as it is in commedia. Her talent is such that Matilde's jokes, told entirely in Portuguese, make the audience laugh nonetheless. But when she reveals how Matilde lost her parents, Galindo surprisingly and delicately mists up, as do we. Caryn West is likewise remarkable as Lane, gently growing from self-righteously officious to genuinely befuddled by Charles' choice of a new soulmate to finally able to turn to others for help and friendship. Kathy Bell Denton gives Virginia a bittersweet mix of self-awareness and surrender. Nadia Nardini disappoints as Ana but is lovely in her silent portrayal of Matilde's mother. Rob Roy Cesar evokes empathy and laughs as the philanderer.
Costume designer Kim DeShazo provides Lane with a white pantsuit in almost great-white-hunter style, which softens to a pink sweater and white slacks by play's end. Virginia's clothing, by contrast, begins as prim but comfortable and ends as happily comfortable. As does the audience's tour of this odd, unique, and ultimately cathartic play.
Presented by and at International City Theatre, Long Beach Performing Arts Center, 300 E. Ocean Blvd., Long Beach. Aug. 27–Sept. 19. Thu.– Sat., 8 p.m.; Sun., 2 p.m. (562) 436-4610. www.internationalcitytheatre.org.