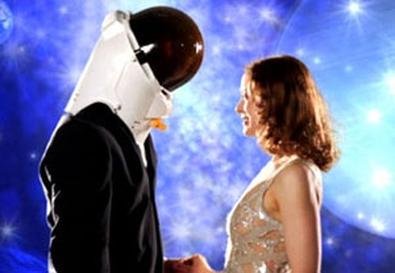 Want to experience the worst sort of theater without the bother or expense of heading to New York? Take in the new indie film "Clear Blue Tuesday," a 9/11-themed musical -- that's not a typo -- representing the sort of egregious fatuousness and self-indulgence that is all too endemic to off-Broadway stages.
Directed by Elizabeth Lucas and written by her and the film's ensemble cast (there's your first clue), the film revolves around the troubled lives of am ethnically diverse group of New Yorkers during the course of seven successive years of Tuesdays in September, beginning on that most fateful of days. Apparently, in the eyes of the filmmakers, the traumatic events of 9/11 provide the perfect opportunity to explore issues of personal growth.
Thus, we are introduced to such less-than-fascinating figures as Etta (Erin Hill), a harpist and sci-fi geek who disdainfully rejects a potential suitor because he has the temerity to dis Captain Janeway from the "Star Trek: Voyager" series; Kyle (Asa Somers), an arrogant executive who fires one of his depressed employees in song; Syd (Brother Love), a fun-loving rock musician; and Ricardo (Robi Hager), an apartment porter who delivers life-changing insights along with the packages.
At different points, nearly all of the characters burst into songs -- written mainly by the actors and nearly all of which are mediocre -- that are not so much expressions of emotional truths as apparent audition pieces for "American Idol."
Because of the sheer plethora of stories and characters, inevitably there are moments that resonate, most of them provided by Caroline (Jan O'Dell, who suffered injuries in the actual attack), an elderly woman searching for her lost son.
However well-meaning "Tuesday" might have been in its exploration of the lives of people physically and emotionally scarred by 9/11, the amateurishness of its execution and the obvious self-regard by nearly everyone involved simply leaves a bad taste in one's mouth.
Opens: Friday, Sept. 3 (CAVU Pictures)
Production: Clear Blue Prods.
Cast: Erin Hill, Vedant Gokhale, Cassandra Kubinski, Brother Love, Jeremy Schonfeld, Julia Danao, Jan O'Dell, Greg Naughton, Asa Somers, Becca Ayers, Robi Hager
Director: Elizabeth Lucas