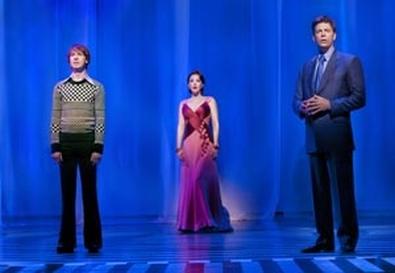 To paraphrase Bill Clinton, it's the songs, stupid. More specifically, the clutch of top-flight tunes written by book writer and lyricist Alan Jay Lerner and composer Burton Lane for their problematic 1965 Broadway musical comedy about reincarnation, "On a Clear Day You Can See Forever." Those siren songs have lured reconceiver
-
director Michael Mayer right onto the rocks in this misguided retooling attempt. Mayer and current book writer Peter Parnell keep trying to jam them into a new story and characters that manifestly don't want them, diminishing the very thing Mayer and Parnell supposedly value. The result is the depressing misfire currently at the St. James Theatre, starring a distinctly ill-at-ease Harry Connick Jr.
Mayer and Parnell have kept little beyond Lerner's conceit and structure. In New York City in 1974, Dr. Mark Bruckner is a psychiatrist still grieving the death of his beloved wife three years prior. Young Davy Gamble, a florist's assistant afraid of romantic commitment, comes to him for help in quitting smoking (Davy's boyfriend Warren is allergic). When Mark hypnotizes Davy, Melinda Wells, a struggling jazz singer from 1940s Manhattan, emerges. Is she an alternate personality or a genuine previous life? As Mark tries to find out, he falls in love with Melinda and starts to blossom emotionally. Davy mistakes the doctor's attentiveness for romantic interest. When he discovers the truth, everything blows up.
In the original it was Daisy Gamble, a kooky Brooklynite with ESP and the ability to make flowers grow, who once lived as Melinda, a young Englishwoman from the early 1800s. Thus one actor played both roles, a tour de force opportunity. Splitting Daisy destroys a terrific star part and replaces it with two less interesting characters. Lerner's doctor was too much of a blank, but at least he was witty, romantic, and sophisticated. Parnell's shrink may have a bigger "journey" to take, but he's so dull, morose, and prosaic that we don't want to go with him.
Parnell and Mayer unfortunately subscribe to the "it's musical comedy so it doesn't need to make sense" school, never establishing a believable reality for the Mark-Melinda scenes. This is illustrated by having Mark start to fall for Melinda once he hears her sing. He would never be able to hear her. What he would hear is Melinda singing through Davy's voice. It makes their entire relationship specious.
And then there's what Melinda sings: songs from the Lerner-Lane film "Royal Wedding." All are performed as real songs except for the lovely "Too Late Now," which does little to musically dramatize her character. As a result, Melinda has no character.
Mayer has tried to address the ill-fitting-songs problem by bringing on a new, though shamefully unbilled, lyricist, who has contributed a fair amount of decent if unremarkable work. But it's a cosmetic job where major surgery is required.
Mayer's loud direction pushes to the point of desperation, as do Christine Jones' unattractive, cheap-looking Op Art set, Kevin Adams' busy lights, Catherine Zuber's coarse costumes, and Peter Hylenski's reverb-loving sound design. Connick can't find the layers in the deepened doctor, and though he sings well, it's more as himself than in character, especially when delivering the famous title song. David Turner is an agreeable Davy but lacks that special spark, and his overblown "What Did I Have That I Don't Have?" only emphasizes that it's not a question Davy would ask in that crucial moment. Jessie Mueller at least gives Melinda spunk and offers a superb jazz rendition of "Ev'ry Night at Seven." Drew Gehling does his best to enliven the too-perfect Warren. Kerry O'Malley is wasted in the superfluous role of a doctor who pines for the oblivious Mark.
I have no problem with trying to fix "On a Clear Day." Lerner was never satisfied with it, even allowing Jerome Chodorov to rewrite it for a 1970s California production. But Mayer isn't fixing it; he's starting over. To do that, he needs a new score. Lerner is too specific a writer for such condescending shoehorning.
Presented by Tom Hulce and Ira Pittelman, Liza Lerner, Broadway Across America, Joseph Smith, Michael McCabe, Bernie Abrams/Michael Speyer, Takonkiet Viravan/Scenario Thailand, Michael Watt, Jacki Barlia FlorinÐAdam Blanshay/Chauspeciale/Astrachan and Jupin, Paul Boskind and Martian Entertainment, Brannon Wiles, and Carlos Arana/Christopher Maring at the St. James Theatre, 246 W. 44th St., NYC. Opened Dec. 11 for an open run. In 2011: Tue. and Thu., 7 p.m.; Wed., Fri., and Sat., 8 p.m.; Wed. and Sat., 2 p.m. (No performances Sat., Dec. 24 and 31; additional performances Mon., Dec. 19 and 26, 7 p.m.) In 2012: Wed., Fri., and Sat., 8 p.m.; Thu. and Sun., 7 p.m.; Wed., Sat., and Sun., 2 p.m. (212) 239-6200, (800) 432-7250, or www.telecharge.com. Casting by Jim Carnahan/Stephen Kopel.