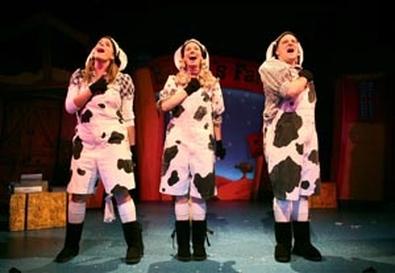 Moooove over "Billy Elliot." There's a new strike-centered musical in town. Both sympathize with the workers and treat audiences like children, but at least "Click, Clack, Moo" has an excuse: It's children's theater.
This adaptation of Doreen Cronin and Betsy Lewin's book of the same title is this summer's free family production from TheatreworksUSA. It skews younger than some of the company's recent offerings ("Seussical," "The Plant That Ate Dirty Socks"), so don't be surprised to find barnyard sing-alongs and some refreshing splashes of innocence.
For example, technology is not a demonic divider here. The laptop of young Jenny (Sarah Katherine Gee) is what enables the cows (Gretchen Bieber, Michael Thomas Holmes, Kristy Cates) on her grandfather's (Drew McVety) farm to finally communicate. It's only after he rejects their request that it becomes a demand and ultimately a strike that drags in the chickens (Gee, McVety, DeMond B. Nason) and puts a duck (Nason) in the middle.
As is usually the case with TheatreworksUSA's summer shows, there's considerable talent in all areas, with Tony Award winner John Rando directing, and Brad Alexander (music), Kevin Del Aguila (lyrics), and Billy Aronson (book) writing. Particularly memorable is the Lee Greenwood–inspired riff in the song "Loretta's Anthem" that goes "proud to be a bovine."
My favorite touch, though, is Beowulf Boritt's bright scenic design, which once again proves that effects don't have to be expensive to be special.
Presented by TheatreworksUSAat the Lucille Lortel Theatre, 121 Christopher St
.,
NYC
.
July 28
–
Aug. 28. Mon
.–
Wed
.,
Fri
.,
10:30 a.m. and 1 p.m
.;
Thu
.,
10:30 a.m
.,
1 and 6 p.m
.;
Sun
.,
2 p.m
.
Tickets are free and available at the box office on the day of performance one hour prior to curtain. For group reservations, call
(
212
)
627-7373
.