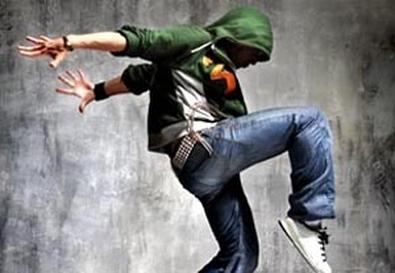 If your interest in dance books tends toward the visual or the practical, you may want to check out the latest crop. It includes two artsy photography books, one about social dancing and the other featuring photos by Mikhail Baryshnikov (yes -- by, not of). There are also two new advice books for serious dance professionals: a haughty treatise on teaching classical ballet and the second edition of The Dancer's Survival Manual, originally published in 1987.
'Everybody Dance Now'
A dazzling book with a shimmering cover and shiny silver-edged pages, Everybody Dance Now (editions2wice, 2009, 95 pages, $25) is a fun collection of exuberant dance photos by the prolific British photographer Martin Parr. Shot in a variety of social dance settings all over the world, Parr's photographs reveal the spontaneity, intimacy, abandon, and cultural conventions of ordinary folks engaged in dance activities. Bursting with energy, the brightly colored images leap off the page, with spirited shots of nightclub dancing in South Africa, Brazil, and Italy; tavern dancers in Munich, Germany; a gay bar in Brighton, England; formal ballroom events in Finland and the English seaside town of Blackpool; traditional dances in Gambia and Thailand; and a wild Jewish wedding. While the photos are utterly delightful and insightful, the few pages of explanatory text are irksome to the eyes. Printed in shades of red, blue, and yellow, the letters grow progressively lighter (or darker) from left to right, necessitating constant visual adjustment, which quickly leads to eyestrain. And on a more picayune note, Mexico City is in North America, not South America, as Parr implies on Page 95.
'Merce My Way'
Baryshnikov the dancer needs no introduction. Yet you may not realize the exalted ballet star is also a skilled photographer whose work has been seen in galleries and museums internationally since the mid-1980s. He has just published Merce My Way (Baryshnikov Productions, 2009, 128 pages, $45), an assemblage of 85 color photographs he took of six recently choreographed dances by master postmodernist Merce Cunningham.
The book is lavishly produced and includes a short introduction in which Baryshnikov explains his belief that it is only by "abandoning the crystalline image in favor of blurred edges" that photography can approximate the excitement of a dance performance. With his commitment to conveying the motion rather than the positions of dance, it is puzzling that Baryshnikov chose as his subject the works of Cunningham, whose choreography is known for its sharp clarity, distinctive shapes, and angular geometries. Taken during dress rehearsals, the intentionally blurry photos capture the startling movements and ingenious spatial designs of the choreography with marvelous authenticity. With his keen eye for kinetic impulses, Baryshnikov was able to catch the dancers at key central moments in their movement phrases, so that his still images contain suggestions of the motions that came before and after. Aided by the viewer's imagination, the pictures become a lively document of the larger choreographic experience.
'Advanced Principles in Teaching Classical Ballet'
A sequel to his 1996 book Teaching Classical Ballet, John White's Advanced Principles in Teaching Classical Ballet (University Press of Florida, 2009, 200 pages, $29.95) is essentially a platform for the author to express his distaste for the mediocrity he believes characterizes much of classical ballet instruction and performance in America today. (Certainly a debatable perception.) A former dancer with Ballet Nacional de Cuba, White bases his teaching methodology on that of the revered Russian ballet pedagogue Agrippina Vaganova and denigrates the plethora of contemporary ballet teachers who use what he sees as a "mishmash" method, "cherry-picking" ideas from different instructional approaches.
Though rigid in his opinions, White offers thought-provoking advice. He insists that advanced-level ballet teachers use only words -- no showing or even marking -- when communicating an exercise. This way, students will internalize what they're learning mentally and not just blindly imitate what they see.
While the preachy tone and repetitiveness of White's text prove annoying, his book provides useful tips for teaching pirouettes, posing, and partnering technique. Overall, however, the author spends too much time opining about what should and should not be in the ballet world rather than explaining specifically how desirable outcomes can be achieved in the ballet studio.
'The Dancer's Survival Manual'
Despite its new edition, The Dancer's Survival Manual: Everything You Need to Know From the First Class to Career Change (University Press of Florida, 2009, 224 pages, $27.50) feels terribly dated in its tone, opinions, and vocabulary. Written by former New York City Ballet dancers Marian Horosko, who also performed in Hollywood musicals, and Judith F. Kupersmith, a psychiatrist, it presents straightforward information on many aspects of building a professional dance career. Its 36 chapters focus on such topics as "Choosing and Evaluating a Dance School," "Auditioning," "Self-Doubt and Stage Fright," "Hair Care and Stage Coiffures," and "The Use of Tobacco." As the authors have updated the book's financial facts, such as the costs of classes and dancewear, for this edition, one wonders why other aspects of the text were not revised to reflect current sensibilities. For example, why do they use the term ethnic dance instead of the now preferred world dance? Also, the book's prescriptive way of offering advice runs counter to the diversity of perspectives and career-building paths that today's dancers are not only permitted but encouraged to embrace.