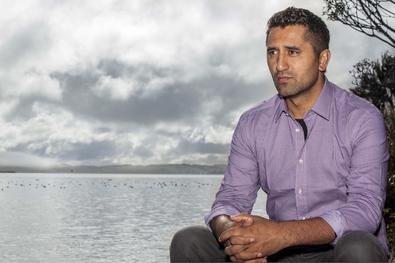 In "The Dark Horse" (in theaters now and expanding April 8), New Zealand actor-producer Cliff Curtis embodies Genesis "Gen" Potini, a real-life bipolar chess wiz who taught his town's impoverished children how to play and thus overcome unfortunate circumstances. Curtis took a break from filming "Fear the Walking Dead" Season 2 to speak about his process.
On getting cast as Gen.
"It was a tricky one because I didn't immediately see that I would be right for the role. They wanted a 300-pound guy, and I went, 'I don't know that that's really me.' [Then I spoke] to the writer-director, James Napier Robertson, and we clicked immediately. Even though he is really young and hasn't done a lot, he's very smart and very bright and had a good sense of what he was doing from the start. And then to discover this person, this human, this guy—what an incredible person [Gen] was."
On gaining 70 pounds for the role.
"I wasn't really keen on doing the weight gain at all. It was not an attractive prospect to me. Being in my middle age, I spend most of my time stopping that from happening. Actively putting all that weight on was counterintuitive to me."
On his newfound chess addiction.
"To try to get into the head of someone who has the gift of understanding [chess], a sort of mathematical capacity to learn the patterns and strategies, and trying to get my head around the board, was a massive challenge. I became an addict—a chess addict. I'm trying to shake the habit."
On 'Fear the Walking Dead' Season 2.
"The zombie genre is not really something I've ever been interested in. It's been a revelation to me to see what the phenomenon is all about. It's been a fantastic journey in terms of how great storytelling can live within any genre once you get into it and [dig] down into the characters and [look] at humanity through this specific lens of life-and-death situations."
On auditioning authentically.
"I think producers and directors are looking for authenticity. Don't distort yourself or alter who you are to fit a role. You've got to be a human being first. And if you're not right for that role, it's fine, but I think as producers and directors and creatives we're looking for people we want to work with. We're looking for people who are going to enrich the process. Be your authentic self. It's not always about getting that role—it's about treating the audition process as a part of your craft."
Like this story? Read more of our Spotlight On interviews!