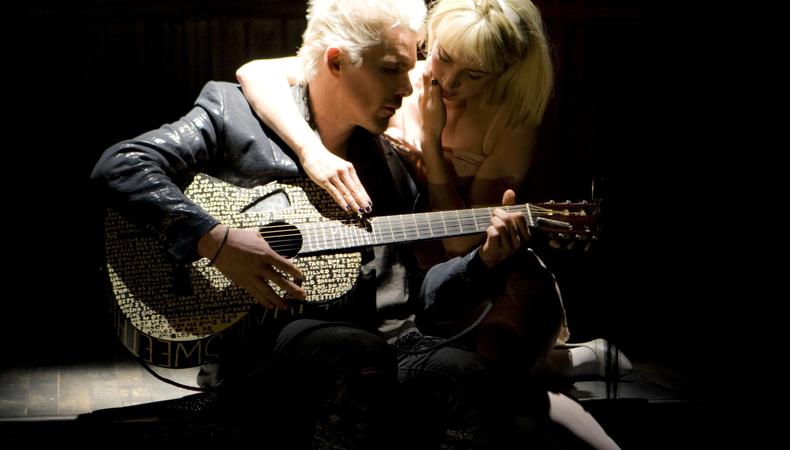 The right mood and atmosphere are essential for a successful theatrical presentation, but they only go so far. Jonathan Marc Sherman's "Clive," directed by and starring Ethan Hawke, has Derek McLane's perfect sleazy setting, Jeff Croiter's evocative lighting, and Gaines' dark music to tell a somber tale of decadence and self-destruction. Unfortunately, the jumbled script and sloppy staging provide only unrelenting chaos and shallow characterization.
A program note describes "Clive" as "based on, inspired by, and stolen from" Bertolt Brecht's first play, "Baal," which was greeted with boos and critical disgust at its 1923 premiere in Leipzig, Germany. The nihilistic story follows the title character, a narcissistic poet, through a series of episodic adventures in which he lives only for pleasure. In Sherman's update, Clive is a brutish, drug-addled rock musician who rejects a lucrative recording contract to devote himself to hedonistic pursuits. After deflowering a teenage girl who subsequently commits suicide, Clive joins the mysterious Doc on an alcohol-soaked road trip that ends in a shabby shack in the wilds of Canada. Here a broken-down Clive breathes his last as fishermen mock him by repeating "A rat dies in the gutter. Who cares?" I had the same reaction after 90 bleak minutes of constant gloom, with no insight into Clive's reprehensible behavior or the society that created him.
Sherman attempts to re-create Brecht's famous alienation effect by having the characters speak the stage directions and directly address the audience, but these devices come across as gimmicks and never succeed in shocking us into recognizing that we are watching a play or considering that our world is just as nightmarish as Clive's. A few of the 21 scenes—or "shards," as Sherman describes them—work. The opening sequence, in which Clive and his cohorts play Truth or Dare at the penthouse of a music executive, has a real sense of edgy danger, but it's mostly downhill after that.
Hawke projects the proper debauched world-weariness and in the musical portions is convincing that Clive possesses talent but has wasted it. He also imparts a measure of the impish charm that makes this louse attractive despite his scummy actions. However, the character's repetitive downward spiral overwhelms the actor's inventiveness. As Doc, Vincent D'Onofrio offers an outrageous Western accent but not much else. In the multiple-role-playing ensemble, which includes the playwright, only the witty Brooks Ashmanskas creates a quirky and memorable set of loony horrors. Even the remarkable Zoe Kazan, as a series of Clive's conquests, is reduced to simpering and batting her eyes.
It just goes to show that when both the director and the author are in the cast, an objective eye is lacking, and the production suffers.
Presented by the New Group at the Acorn Theatre, 410 W. 42nd St., NYC. Feb. 7–March 9. (212) 239-6200, (800) 447-7400, or www.telecharge.com. Casting by Judy Henderson.
Critic's Score: D