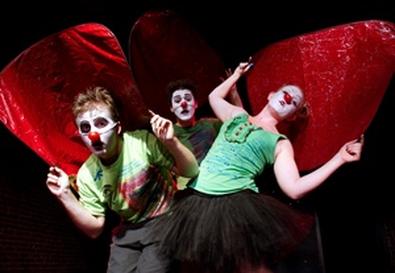 Leave it to Clownzilla, the U.C. Irvine–based clowning troupe, to write a show that not only features each troupe member's signature comedy and pantomime skills but that's also a not-so-subtle critique of Arizona's recent war on immigration.
Actually, leave it to Eli Simon. The troupe's founder, and this show's writer and director, devised the ideas for this striking world premiere while with his Clownzilla troupe in Italy two summers ago. As such, the evening is a skilled mixture of scripted bits, off-the-cuff clowning, slapstick, Theatre of the Absurd, and social and political satire poking fun not just at Arizona's posture toward immigrants but at the entire human race. The first Clownzilla show to depict nonclowns shows them as hostile and paranoid, dashing around wearing black coats while shining flashlights onto their targets: the clowns they hope to enslave or chase off.
A substantial part of Simon's script covers the process of assimilation, as various clowns, having been branded "the most wanted criminals on Earth," try to adopt the appearance and mannerisms of humans to avoid persecution. "Illegal Aliens" also addresses themes of alienation: Those who are "in" try to remain there while trying to keep outsiders "out" at all costs.
The clowns' talents are so polished and so similar that no single clown stands out. Making a lasting impression, though, are Adrienne Mueller and Will Cranmer as the clown family's often-sour mom and dad; Hannah Conway, a girl clown and ballerina wannabe; and "enforcer" clown Nicholas Law, with rubber mallet always at the ready. Alexa Teal Green's Baby Clown is a focal point of the story, and Green uses a combination of sweetly shy demeanor and "out clown" poses to pull maximum audience sympathy. Indeed, all nine clowns are eminently sympathetic, even while evoking gales of laughter.
Several supporting elements are an especially good fit, including Greg Beam's work as the story's narrator, Holly Poe Durbin's costumes, Alan Terriciano's jazz-piano score, John Iacovelli's scenic design, Vincent Oliveri's sound, and Lonnie Alcaraz's lighting.
Presented by Clownzilla at Monkey Wrench Collective, 204 N. Harbor Blvd., Fullerton. Aug. 27–Sept. 25. Fri., 8 p.m.; Sat., 7 p.m.; Sun., 2 p.m. (714) 525-1400. www.monkeywrenchcollective.org.