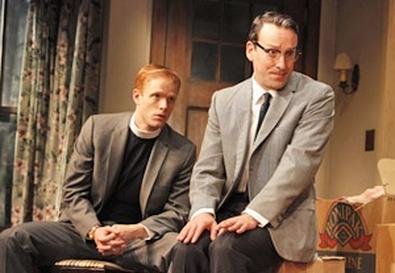 Bruce Norris' a-pox-on-all-your-houses satire scores its share of points in Pam MacKinnon's sharply directed production, landing some big laughs as it examines the almost limitless ability of human beings to be selfish and petty. Race is the underlying subject, with Lorraine Hansberry's "A Raisin in the Sun" providing the inspiration for the clever conceit. But unlike Hansberry's wrenching classic, "Clybourne Park" evaporates almost as soon as it's over, largely because this self-styled "pitch-black comedy" hasn't a dangerous bone in its body.
Act 1 happens in 1959 in the home that Lena Younger, the matriarch from "Raisin," has purchased in the Chicago neighborhood of the play's title. Forty-something Bev and Russ are selling below market value because they want to leave the neighborhood in the wake of a notorious family tragedy. But the community has just found out about the new owners and is determined to stop the sale. Karl Lindner, the character in Hansberry's play who attempts to bribe the Youngers not to move, reappears here, accompanied by his congenial but clueless deaf and pregnant wife, Betsy. Aiding him is vapid local clergyman Jim. Bev and Russ' domestic worker, Francine, and her husband, Albert, do their best to stay out of the crossfire.
Act 2 shoots forward to 2009. Steve and Lindsey, a white yuppie couple expecting their first child, are planning to tear down the now-decrepit house and build a new one. Accompanied by their lawyer, Kathy, they are meeting there with a black couple from the neighborhood, Kevin and Lena (yes, she's related to her namesake), and their counsel, Tom, over complaints that the new structure will be too tall. Hidden agendas about race and gentrification, however, soon emerge.
Norris has a high old time in Act 1 making hay out of the emotionally repressed, overtly racist '50s, but the era and his characters are easy targets. There's far too much insipid chitchat before he gets down to business (a structural error repeated in Act 2). Once he does, though, the play takes off, and we're hooked by the sad and funny spectacle of people talking past each other on an intractable topic. None of it is new, though, just as very little surprises in racism's stubborn residue 50 years later. Norris weaves subtle, intriguing connections between the two eras, though one strikes a false note: Would liberal-minded Lindsey really get so bent out of shape upon suddenly discovering the house's 50-year-old tragedy when she and her husband are tearing the place down?
Everyone in the crackerjack cast plays at least two roles, working hard to humanize characters that rarely transcend types. Christina Kirk makes Bev an interesting mix of conventional housewife and progressive soul, then goes 180 degrees in the other direction for blasé lawyer Kathy. Annie Parisse emphasizes Betsy's cheerfulness and Lindsey's emotionality. Crystal A. Dickinson and Damon Gupton contrast Francine and Albert's carefulness with the more liberated Lena and Kevin's self-assertion. Jeremy Shamos as Karl and Steve finds strikingly different ways of depicting two men ill-at-ease in their own skin. Brendan Griffin invests both Jim and Tom with a surface pleasantry that masks their underlying manipulation, but he can't do much with the brief appearance of Kenneth, Bev and Russ' son, who exists only as an unpersuasive emotional deus ex machina. Frank Wood simmers effectively as the unhappy Russ and really cooks when the pot boils, but he hasn't much to work with in Act 2 as a construction worker.
Though it's a reasonably engaging way to pass a couple of hours, one waits in vain for "Clybourne Park" to draw blood.
Presented by and at Playwrights Horizons, 416 W. 42nd. St
.,
NYC. Feb. 21
–
March 21. Tue
–
Sat
.,
8 p.m
.;
Sun
.,
7:30 p.m
.;
Sat. and Sun
.,
2:30 p.m
. (
212
)
279-4200 or www.ticketcentral.com. Casting by Alaine Alldaffer
.