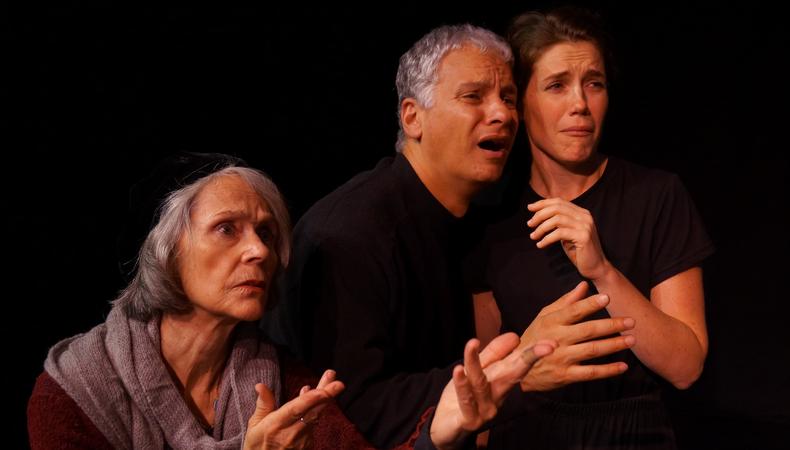 In his priceless 1964 volume "The Art of Coarse Acting," English journalist and humorist Michael Green typifies a coarse actor as "one who can remember his lines, but not the order in which they come." After more pointed examples, Green notes: "His problems? Everyone else connected with the production."
Exactly. And Green's subsequent stage spoofs are ruthlessly funny, as witnessed by "The Coarse Acting Show" at Sacred Fools Theater Company. In the assured hands of director-adaptor Paul Plunkett and a deft ensemble, this knockabout skewering of amateur thespians and the plays they destroy is a riotous satiric romp.
Welcome to the Los Angeles Dramatic Series, where, after cacophonous onstage warm-ups, founder and chief instructor Shirley Severin (an inspired Ruth Silveira), welcomes us to tonight's showcase for "actors in the act of acting." What follows repeatedly threatens our kidneys.
"Oedecles, King of Thebes" does to Sophocles what its title character does to Amnesia, the sister of late wife Queen Ovary. William Shakespeare's historic and sylvan plays take their hits in "'Tis Pity She's the Merry Wife of Henry VI (Part One)," while "The Cherry Sisters" decimates Anton Chekhov and Russian lugubriousness.
After intermission comes "Waiting for the King," an absurdist parody penned by Plunkett that crams various Samuel Beckett elements into a deadpan trash compactor by way of Graceland. And the operatic finale, "Il Fornicazione," must be heard to be disbelieved, thanks to its orchestra's failure to show up, save for the triangle player.
These parodies alternate with classroom demonstrations (also written by Plunkett), such as "Acting Characteristics Techniques" and "Ultimate Terror Vocal Eruption." Overseen by Shirley, whose howling non sequiturs, slurred consonants, and wine glass grow more pronounced with each scene, the demos redefine "over the top" with knee-slapping abandon.
So does the cast, starting with Silveira's soused theatrical doyenne, an object lesson in sustaining and building comedic specifics. Perry Daniel's lisping overachiever is a hoot, whether as Grecian spearhead Hysterectomy or passion-starved Veruka. Irina Costa brings dim-bulb precision to Amnesia and ingénue Basha, and Alyssa Preston is in her element as stoic Gnasha and the high-note shrieking Countess.
Jonathan Palmer gives the King of England droll control that approaches Eric Idle, and, in the Beckett send-up, his Perky and Julia Griswold's Dan convey supreme inanity against Joseph Beck's shrieking Trashy Prompter. Brendan Broms, as addled Piles the Butler and enervated Conductor, is an absolute stitch. But everyone is, with Aaron Mendelson, Brian Wallis, Bruno Oliver, Kelley Hazen, and Shelley Wenk completing a no-holds-barred roster.
Designs are purposely ham-fisted, with Tifanie McQueen's scenery, costumes, and props yielding goofy surprises, aided and/or impeded by John Sylvain's unpredictable lighting and Johann McBugnuts' cliché-ridden sound. It's hardly a subtle evening, resembling "Your Show of Shows" as rethought by Christopher Durang on LSD, and some jokes will sail over the heads of non-theater folk. All in all, though, it's a boffo laugh fest.
Presented by and at Sacred Fools Theater Company, 660 N. Heliotrope, Hollywood. Nov.16–Dec.15. (310) 281-8337 or www.sacredfools.org.
Critic's Score: A