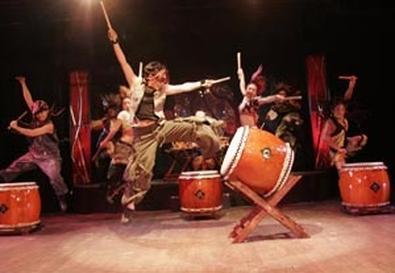 For those unfamiliar with Japanese Taiko drums, the most common kind is about three feet wide, shaped roughly like a wine barrel, and made of wood and thick skins. They can be played on both sides simultaneously, usually with blunt sticks about half the thickness of rolling pins. The rumbling sounds they make can be felt deep in your spine.
In "COBU: Dance Like Drumming, Drum Like Dancing," COBU takes traditional Taiko percussion and kicks it up a notch—literally—with a vigorous mix of American and Japanese choreography, integrating everything from aboriginal ceremonial dance to hip-hop to old-style tap dancing. The result is a thrilling 45-minute set of nonstop physicality.
Led on stage by the multitalented Yako Miyamoto ("Stomp"), the seven members of this all-female NYC-based troupe are in constant movement. They do cartwheels, tap dance, twirl, and even stage fight. More than anything, the performers demonstrate a dazzling array of inventive percussion, using every inch of the drums (as well as parts of the stage) to great effect, transitioning seamlessly from primal booms to jazzy rat-a-tat.
Miyamoto's choreography sets a relentless pace, and not one of the cast members misses a beat, performing the entire set with smiles of absolute joy. Their enthusiasm—and talent—are infectious.
Presented by COBU as part of the New York International Fringe Festival at the Bleecker Theatre, 45 Bleecker St., NYC. Aug. 12–25. Remaining performances: Wed., Aug. 17, 7:30 p.m.; Fri., Aug. 19, 5:15 p.m.; Wed., Aug. 24, 2:30 p.m.; Thu., Aug. 25, 5:15 p.m. (866) 468-7619 or www.fringenyc.com.