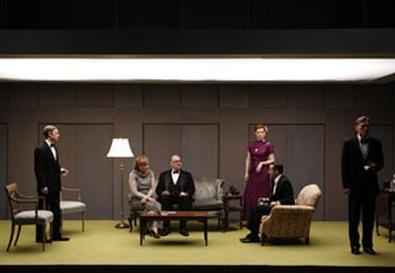 The Actors Company Theatre is one of several New York troupes—including Transport Group, Keen Company, Mint Theater Company, and Metropolitan Playhouse—serving a vital function: reviving rarely seen plays that would otherwise be consigned to a dusty library shelf. Its latest production, T.S. Eliot's poetic drama "The Cocktail Party," suffers somewhat from the datedness of the script, but director Scott Alan Evans and a strong cast inject vitality into the patient.

When the play opened on Broadway in 1950, it won the Tony for best play, and the New York Drama Critics' Circle named it best foreign work. In addition, it became a succès d'estime, sparking intellectual debate as to its meaning. Subtitled "A Comedy," the play initially appears to be a parody of the drawing-room attractions populating the stages of New York and London at that time, but it gradually moves into then-uncharted territory. At the swanky flat of Edward and Lavinia Chamberlayne, the titular gathering is in progress, but the hostess is mysteriously absent. After some Noël Cowardesque chitchat, we learn that Lavinia has left Edward and both have been carrying on affairs with mutual friends. A mysterious unidentified guest, later revealed as Sir Henry Harcourt-Reilly, a prominent psychiatrist, offers counsel to the troubled couple. The doctor also treats Celia, Edward's lover, and urges her to live a more selfless life.

The attitude toward psychiatry as an almost mystical rite and the presentation of the therapist as an all-wise shaman are antiquated in this age of omnipresent analysis. Sir Henry's methods of treatment, involving third parties and the breaking of patient confidentiality, drew laughs at the performance attended. Yet Evans and his cast wisely avoid condescension to the material, taking the stilted moments seriously.

Simon Jones endows Sir Henry with an impish sense of mischief as well as fatherly compassion. Jack Koenig and Erika Rolfsrud believably go from narcissistic bickerers to understanding lovers as the conflicted Chamberlaynes. Lauren English heartbreakingly details Celia's quest for a deeper meaning in her life. Cynthia Harris slyly plays with eccentric-elderly-lady stereotypes as the enigmatic Julia, who has an unclear connection with Sir Henry. Jeremy Beck and Mark Alhadeff deliver complex work as the remaining party attendees.

The set, by Andrew Lieberman and Laura Jellinek, resembles an operating theater surrounded by closed doors. The effect is enhanced by Aaron Copp's cold, harsh lighting. In the second act, as the characters drop their illusions, doors open and the lighting becomes warmer. David Toser's costumes are also fitting, literally and figuratively. Tight conservative gowns and formalwear give way to casual and comfortable togs.

Though some of the talk is occasionally a bit stuffy, this is a stimulating "Party."


Presented by the Actors Company Theatre at the Samuel Beckett Theatre, 410 W. 42nd St., NYC. March 17–April 17. Mon., Wed.–Sat., 7:30 p.m.; Sat., 2 and 8 p.m.; Sun., 3 p.m. (212) 279-4200 or www.ticketcentral.com. Casting by Stephanie Klapper.