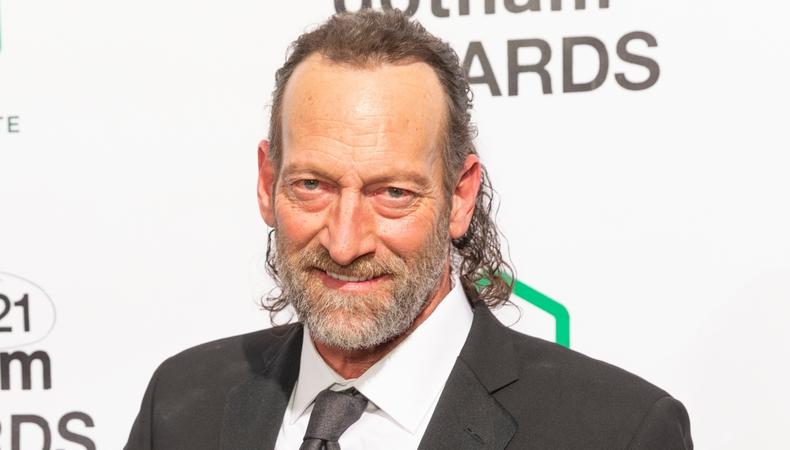 In the Envelope: The Actor's Podcast features in-depth conversations with today's most noteworthy actors and creators. Join host and senior editor Vinnie Mancuso for this guide on how to live the creative life from those who are doing it every day.
Troy Kotsur is a study in perseverance. The Arizona native spent years honing his craft through stints at the National Theatre of the Deaf and Deaf West Theatre in Los Angeles, all the while wondering if the industry would ever fully embrace a deaf actor.
"My wife was beginning to get worried. My family members were worried," Kotsur says of his early days as an actor. "They thought that it was really impossible for a deaf actor to get an opportunity in Hollywood. It's just like 1% of actors. It's almost like a hair in my beard, just this one hair, and that represents the opportunities that I was given."
Luckily, Kotsur's latest role is—to loosely follow his own metaphor—one mighty significant hair in that beard. In writer-director Sian Heder's "CODA," Kotsur plays Frank Rossi, a Massachusetts fisherman and the patriarch of a primarily deaf family, who struggles to connect with his ambitious hearing daughter, Ruby (Emilia Jones). In the aftermath of "CODA" selling to Apple out of Sundance for $25 million, the crowd-pleaser has been a delightful surprise in this year's awards season, with Kotsur leading the way. He's already snagged history-making wins at the Gotham Awards, the Screen Actors Guild Awards, and the Film Independent Spirit Awards on the road to the 94th Oscars. An Academy Award win for Kotsur would mark the first for a deaf male actor, and just the second ever for a deaf actor overall, following in the trailblazing footsteps of his "CODA" co-star Marlee Matlin.
"Receiving these nominations, I feel like the choices I made and the tough struggle I went through really was worth it," Kotsur says. In this In the Envelope interview, the actor reminisces about that winding journey, from his lessons learned in live theater to a brief pit stop in the "Star Wars" galaxy, all the way up to his belated "CODA" breakthrough.
That last bit includes a thorough on-set breakdown of the most emotional scene in "CODA"—the moment that most likely cemented Kotsur's Oscar nomination. Frank and Ruby sit alone on a trunk bed, Ruby singing a song to her father, his hands on her neck in an attempt to "hear" his daughter. Kotsur's breakdown of that moment is a master class for any actor curious about the power of silence and eye contact.
"When I read the script, after Ruby sings, there was a line of dialogue that said, 'Thank you,' " Kotsur says. "I felt that was a bit off. I wanted a different way to say thank you. So instead, Frank kisses Ruby on the forehead. That says 'thank you' without words, without any line of dialogue. What is communicated between the eyes and that energy and the emotion is just so powerful that it leaves the audience to make their own interpretation."
In the video below, you'll find our conversation with Kotsur, followed by a full transcript of the interview. This interview was conducted with the help of ASL interpreter Justin Maurer.
I want to say thank you, first, for being here. And thank you for making this movie that I simply can't even think about without openly weeping. It's a beautiful film, and I'm so happy it's getting the recognition it deserves.
Thank you so much for watching our film, Vinnie. It's really one of my favorite films. It really reaches out to a lot of people and such a wide audience. It doesn't matter if they're hearing, deaf, or hard of hearing, or folks who speak English as a second language. It's just an extremely special film.
At this point, we're about a week out from you winning the SAG Award. I'm wondering—because I don't get the chance to ask a lot of people this—what does it feel like, physically and emotionally, to know that you made history?
When I received the nomination I told myself, Wow. Looking back on my journey, 30 years ago, I was extremely stubborn and extremely persistent. All of the choices I made, really, I took a lot of risks. My father used to call me a risk taker. And I really struggled. I would take whatever job I could no matter whether it was small or large. So receiving these nominations, I feel like the choices I made, and the tough struggle I went through really was worth it. It was a payoff, and I felt a sense of relief, that I'm okay. I'm so glad that I've accomplished my dreams, really. So it's such a blessing. I slept with the SAG Award with me in my bed that night, and my wife was a bit jealous.
You might have to make room, you might have to put the Oscar on the other side.
It wasn't easy for me to carry two SAG Awards around that night, because I need both my hands to sign. I need my hands to be free. So it was actually tough. I had one in one arm, and I'd sign with one hand. If I was hearing, I could just hold both of them and just use my voice and "blah, blah, blah, blah, blah." So it was a really interesting experience for me that night.
You mentioned that stubbornness, which has gotten you all the way here. I can't imagine that an easy journey, or a quick journey. I'm wondering if that stubbornness is a requirement to be an actor?
Well, I really, I wanted to do it from my heart. I was following my instinct. If I stopped acting, there would have been something that really bothered me, I just wanted to keep going. So my gut would get a little quieter. But of course, a lot of times, I was worried because I was getting a bit older, I didn't have a retirement plan, I didn't have an idea of how I would support my family. My wife was beginning to get worried. My family members were worried. They thought that it was really impossible for a deaf actor to get an opportunity in Hollywood. It's just like 1% of actors. It's almost like a hair in my beard, just this one hair, and that represented the opportunities that I was given. So that's the way I felt. It really made an impact on me to make that change, and to have that new perspective, and to have that energy and a new perspective on me as an actor, too.
Something "CODA" makes so obvious is how powerful silence is, as both a filmmaking tool and as something in an actor's toolbox.
It's extremely important to listen to other actors, and whatever lines they may have. So if I don't have any lines of dialogue, I have to react. I have to listen and I have to emote. So when I'm silent, and I don't have any lines of dialogue, really language is communicated through the eyes and emotion is communicated through the eyes and the audience can feel you if the audience is feeling the emotion coming through your eyes.
It's also the choices you make with your lines of dialogue. You don't just say your lines, it's really important to know what is between the lines, and then you're going to find the right emotion and the intent. I'm very glad that I trained quite a bit. I was a working theater actor, I did a lot of workshops, I did a lot of training over my 30 years of acting, and so I could understand how to analyze my characters. Even before my character says something and before my character has aligned, the in between the lines is what's truly important.
I really love playing around with props as well, like a cigarette, for example. You can put the cigarette in your mouth and you can sign, or you can sign with one hand and have a cigarette in the other, and just be natural. Just like when hearing people…they can talk with a cigarette in their mouth or they can talk with a cup of coffee in their hand. So as deaf actors, you can use your hands and use your props and make it natural, make it fun. It's important for actors not just to say their lines, but to learn how to play around with the props, play around with the clothing. Clothing, of course, affects my characters too. If I'm playing opposite another actor, the choices they make affect me. I need to show that authenticity and just put that forward. It doesn't matter if I'm on camera or not, or if I'm in picture or not, it's really important that you really feed your fellow actors that energy and those reactions. So if I'm just like, playing my lines, you know, or I'm just yawning, because I'm not in the shot, I still need to feel the other actor and feed them with that energy. That's what makes a great performance. You really have to work together as a team, because we all cherish the story. That is our goal is how to tell the story in the best way we can.
Especially with a movie like this, it's about breaking barriers down. I'm wondering on a macro level between you and a scene partner, when you're trying to find that energy for the first time, when you're trying to bounce ideas off each other, how do you get on that same wavelength? How do you make sure that your streams are crossing, so to speak?
It's very important off set to make the actors feel comfortable with each other, just tease each other and chat and build that trust before you get onto set. Sometimes I work with actors who really are so worried about memorizing their lines, and I don't have the opportunity to really have a relationship with them. So when I'm working across with them, there's a disconnect, and I have to play along, depending on the individual. But really, you have to learn how to improv, you have to learn how to play around with your fellow actors and trust the choices they make. That's what I do. Really, all actors have different tools in their toolbox. Some are divas, some are really awkward. It's really important to just work with people at all of these different levels. It depends on the situation, it depends on the individual. And you really have to work with your fellow cast members and make that connection.
Looking through your past work. I thought it was so fascinating that in the performance of "Big River," you played the same character as Lyle Kanouse, where you were signing, he was he was verbally delivering the lines. I'm wondering what that experience specifically taught you about working with a scene partner, and then how something so intertwined on stage translated to working then in front of the camera?
It was very interesting. Our director, who was Jeff Calhoun, and his vision was, of course from Huck Finn, right. And it was Huck Finn's perspective, and his father, Pap, Pap, Huck, and so he was always drunk, he was always drinking, he was angry, he really hated the government, and all of that. So it was the imagining of having a hearing and deaf character. So one is drunk and influencing the other with that inebriation. That was an interesting vision he had, it was such a fun process. On the stage, we would tend to transition through the storyline and and go in chronological order,but when you're doing film or TV, you're not always shooting in order, right? So you might start shooting the end of the scene, or it just depends on your locations, it depends on your scheduling. It's very important to be prepared as an actor before you get on set to know what happens in the scene before or after. It's important that you understand the story. That's your responsibility, because directors don't have the time to focus on you. They're worried about the sound, they're worried about the set design, they're worried about the costuming, they're worried about the actors, they're worried about the dialogue delivery. So as an actor, I need to do my homework to make my director have less work and less worries, and they can worry about other things. So that's my responsibility as an actor. That's what I tend to do.
It's interesting, you bring that up, because I have I've read some interviews with Sian Heder, writer/director of CODA, and some things where you said she really understood how to let you be an actor. How did that inform how free you felt on set? How did that inform your performance?
That is a great question. Thank you Vinnie. I feel like I had more freedom especially because we had two ASL masters, Anne and Alexandria, [who] were able to watch the monitor behind the camera. That way I had a sense of relief to have even more freedom as an actor because I know they would give feedback. So if they weren't there, they might cut off my signing, they might focus on my hands or cut off my arms because signing and ASL, the grammar is in the facial expressions. And so to have a deaf person there, as the ASL master, they could inform the director on the decisions there, and how they're framing the shot. So of course, I felt so much more free to express myself. I was so happy they were there. It's so important when you have deaf actors to have a system on the set where it's designed to have a deaf eye behind the camera and an ASL interpreter as well. If you don't have that support as a deaf actor, of course, I would worry about my performance, because there's so many hearing people that don't have any experiences regarding deaf culture or American Sign Language. So I wanted to make sure I didn't lose the audience. Because there's millions of deaf people out there 40 or 50 million in America alone, that can relate and that can be involved with this story. It really can benefit the hearing people to get to be a fly on the wall and have a new perspective. So that was all extremely important to me.
I asked our director, Sian, to try a few options, and she was willing to give me a few options. After her vision was satisfied, I wanted to give her a few more options. And that gave me more freedom. So communication, you need to make sure that everyone knows the best way to communicate before you start shooting.
I'm wondering if there's something you tried that made it into the finished product that was a result of that collaboration, that you think worked better?
Because we had two pairs of deaf eyes behind the camera, I had more freedom to improv, and improvise. And so they could add the lines to the script, and give that to our director. And so I was able to add on to what was already written. And so when our director Sian asked me, for example, the recital at Ruby's school where she's singing—Sean asked me, "Hey, Troy, can you try a few different options?" So I just went along with Marlee, right? We're sitting in the audience, and she would improv and I play along and back and forth, we'd feed off each other. What you see on screen says, Hey, what do you want for dinner, and Frank reacts and says, spaghetti. And so that was pure improvisation. And that was kept in the final product. Also, the buttons not being in the right order on Frank's shirt. That was also improvised. Because you know, as deaf people are watching all this music sitting in the audience for hours, I'm checking my watch, I'm checking the buttons on my shirt as Frank Rossi, I might be plucking my beard and see that there's a little bit of food from last night, some leftovers. I might eat those leftovers that I find in my beard. And they ended up not keeping that leftover in the beard moment, but they kept the others.
You have a daughter, and I believe she's a musician. I'm wondering if that's something you were able to bring to this specifically to make it feel just that much more real.
Yes, that's absolutely true. Because in the morning, I would drive and pick up my daughter from school or drop her off at school. So it was a bit awkward for me to see her carrying her guitar. And she had her guitar in a bag, right? And so I'm like, Oh yeah, my daughter's playing music and I'm playing it cool. And so I carry my daughter's guitar from time to time. And I would check in on her and out of curiosity while she was playing the guitar. I put my head hand on her acoustic guitar to feel the vibrations. And so, so similar my experience in real life with my CODA daughter as to what was in the film. And so that is just a fact.
That reminds me of the [CODA] scene on the trunk bed with Amelia, which I think is just, I think when you years from now, when you mention CODA, that's the scene that people remember. What I love so much about that scene is you touch her neck, and there's no obvious explanation to the audience what that means. I think it's something that you just understand. Was there any version of that where anyone said, Oh, maybe we should explain what's happening. Or if it was just, everyone on set understood that this is what the audience will get from this?
[In that moment] there's something in the back of Frank's mind. He watches his daughter Ruby's recital. He's watching the hearing audience members' reactions to his daughter's music. So the hearing audience are Frank's ears because he's watching how they're reacting to his daughter singing. So he notices that she must be good. That leads to sitting on the back of the pickup truck with his daughter, Ruby. And he's still thinking about that. And when Frank is sitting next to Ruby, he has the opportunity to ask her, you know, "why are you so passionate about music?" That's what he wants to understand. Help me understand what you love so much about music.
So Frank moves closer, and he still can't hear her sing. But he's fascinated by how her facial expressions are. They're so different when she's talking in everyday life. But her expression on her face, she's so much more, for lack of a better word, expressive. So the song that she's singing, he sees how she's emoting and her facial expressions, and he wants to experience the sound that's coming out of her voice. So he touches her throat, and it's not quite enough. So Frank says, "Sing it, sing louder, so I can feel it." And he's curious, he wants to feel those vibrations, and with any puts two hands on her neck. And you see those rippling waves of emotion and Frank closes his eyes, he really wants to completely understand what these sounds mean to his daughter.
And when the vibration stops, they make eye contact. I don't even know how to explain it, it's even hard to explain. It's like a speechless feeling. Frank doesn't have any words, but he is so incredibly proud. But he's frightened, because he doesn't know how this will affect his family's business and the sacrifices he'll have to make. He doesn't want to be selfish by keeping his daughter as the mode of communication for his family business. But at the same time, he can't ignore his daughter's talent. He noticed the audience's reaction. So he knows that she has a special gift. So it's tough for Frank, to make those sacrifices to do what's best for his daughter and what's best for his family. That moment, it was extremely powerful. I'll never forget when that happened, I was looking for the interpreters. They all disappeared, because they were both in tears. The interpreters were real life CODAs themselves, and they really missed their parents. And our interpreter today, Justin, he's a CODA himself as well. So I'm sure he gets it.
I think that that moment of eye contact you mentioned, that's the whole movie.
I'd love to add that when I read the script, after Ruby sings, there was a line of dialogue that said, "thank you." I felt that was a bit off. I wanted a different way to say thank you. So instead, Frank kissed Ruby on the forehead. That says thank you without words, without any line of dialogue. What is communicated between the eyes and that energy, and the emotion is just so powerful that it leaves the audience to make their own interpretation. That was an extremely special moment and I'm so glad that we caught it.
That's the thing about your performance, it's just in the way that you look at your co stars. If you had to give a very short masterclass on the art of just showing emotion with your eyes, the art of just looking at your co-star, what would be your first sort of snippets of advice?
It's interesting, you say that…so if they're hearing actors, most of them don't tend to make eye contact, because as hearing people, you rely so much on your ears. But as deaf people we communicate visually, that's our only way to listen is through our eyes. So most hearing actors aren't used to that, actually. So it's extremely powerful to have in your toolbox. So us as deaf people, we have to make eye contact, we have to see your facial expressions, we have to see your emotions and your reactions. And if you're talking behind me, I'm not going to see your emotions and your emotional arc, because I can't see what you're saying. So that's a part of Deaf culture, eye contact. I'm sure many CODAs have experienced really traversing these two worlds and how they code shift with their deaf family, they make that eye contact, and then they have to code shift back to the hearing community and they can breathe a bit. Because hearing people have a bit of a different way of communicating. You're catching that difference, Vinnie, and we have to make eye contact most of the time as deaf people, and then hearing people tend to make less eye contact.
That's just sort of one of the wonderful things about this movie…a lot of beautiful films came out this year, but CODA is the one that you know, it kind of changed me as a person. It's very dramatic to say.
Exactly. I see a lot of people beginning to shift their perspective. So a lot of CODAs who I didn't even know who many of them were, and they sent me messages saying thank you. Thank you, Troy. Finally, I feel seen. Finally I feel understood as a CODA, and made so many of them feel good and embrace their identity. My wife is a teacher, she teaches ASL, she teaches hearing kids ASL, and a lot of them were just taking sign language because they thought it would be easy or fun, and they didn't really do their homework. Then they found out that I was nominated. All of a sudden, they got more serious. They had more respect for her. They started doing their homework and turning in on time. And so it actually impacted my wife's job. It was nice to see that shift immediately.
It's interesting, because this is a movie people need. I've read a lot of interviews you've done. And you talk about how, as a young man, as a kid who was interested in acting, there just wasn't there wasn't a lot of representation for you there. There wasn't a lot of things you could grab on to. You also mentioned that the first thing that really did draw you in are these old sort of sci-fi action movies. I think you mentioned Godzilla, which I think is very interesting. What was about that, that you sort of first latched on to?
Oh, it's so funny that you mentioned Godzilla. You know, I was a naive kid, I just thought, wow, there's a big monster. It's a big lizard. It's destroying all these buildings, you know, back when that was released, because of course, the monster didn't have any dialogue. You just saw the physicality of Godzilla, destroying these cities. And so today, I'll see it and it's lame. You know, it was just like someone in a costume, obviously, destroying these cardboard buildings, right. And so I was so naive as a kid, but it was so fun for me looking back. And so I was so excited when I first saw it. And "Star Wars," the first "Star Wars" film changed my life because it was so visual. There was so much communicated visually, it really motivated me to become an actor. I really wanted to direct but I knew Hollywood wouldn't be ready for a deaf director. So as an actor on stage, I was able to work with so many different directors, and so many different actors, and I was just waiting for the right time and the right opportunity, and I remained persistent. That led me to where I am now as a nominee. I have, of course, the opportunity to possibly go back to directing and go back to that dream when Hollywood is ready. It's really up to them, right? But this is just the beginning. This is a great step forward for me and for my career.
It's very interesting that you mentioned "Star Wars" because I learned something today that I don't think a lot of people know is that you're, you're now a pivotal part of the Star Wars universe. You introduced a sort of ASL to the Star Wars universe through "The Mandalorian." I'd love to get your view on that experience and what that means to you as a person who watched "Star Wars" as a kid who is now shaping the "Star Wars" universe?
Yeah, I'm a part of the "Star Wars" universe! Of course, I'm thrilled to be involved with "The Mandalorian." You know, since I was a kid, my dream was to work on something like "Star Wars." Recently, I went to an expo, a Fan Expo like a sci-fi festival. It was called Fandom and it was in the city of San Diego. And the group of members there, they're called the 501, league Legion, the 501 Legion. And so they're Star Wars fans, and they gave me this certificate as an honorary member of their Legion, the 501. And so I was thrilled and honored. And I feel like I'm a part of the Star Wars family now.
This question might be a little intangible, it might be hard to put into words, but…what does it feel like to realize that you're in the middle of fulfilling a dream?
I really noticed that many of my friends who wanted to be actors, they would come to California for a year, and then they would leave. And they were hoping that Hollywood would remember them. And I was like, No, you have to stay in California for many reasons. You need to get to know people, you get to become part of the community of Los Angeles, not only in theater, but in TV and film, too. You have to stay for much longer than a year. People get to know you. And I was involved in a theater who had many different reviews. And so a lot of these writers, they knew me ever since I started working in 1994, with Deaf West Theatre in LA. And so I got to keep building this network. And if there were opportunities to audition, I would do it. But I was still working on the theater stage. I really enjoyed socializing with the Deaf community, you know, because it's my home, really, American Sign Language. It's my friendly zone where I can communicate with people. It gave me life. And what really kept my hope alive…was Marlee Matlin. Because Marlee Matlin was a great representative, the lone representative of the Deaf community, and Marlee Matlin really gave me hope. Without her I might have been too frightened. When I saw Marlee really start to emerge in Hollywood, I really appreciated it. And that kept my hope alive, seeing Marlee. I didn't realize what a long tough journey it would be for me, but seeing her really was an inspiration. So when we would stop doing a production, people then asked me, Hey, Troy, do you want to join this other production? So I kept working Because I was responsible, I was committed, I appreciated my work, my craft, honing my instrument, and they knew that I was a serious actor, and they wanted to keep working with me. So I knew it was better to stay in LA for a little while, I was definitely a small fish in a big pond. And when you're a big fish in a small pond, then you can kind of move on to a larger pond. Right?
You're someone who came from Arizona, went to LA, moved back to Phoenix, you've been in all these sorts of communities. Something I really noticed about CODA is that there's such a sense of place, you feel like you're in a small Massachusetts fishing town. As an actor, what do you do to get the quirks of a location right? How do you immerse yourself in a very specific location and adorn yourself with those quirks?
Really, it depends on the environment, right? So I would go a bit early and take the time to socialize. So in Gloucester, I would follow around these fishermen, I pay attention to their behavior, the type of language they used, how they dressed, how they drink beer, how they would get up so early in the morning, and they would get off work and they would go to the bar at like 10 o'clock in the morning that was equal to them having a beer after the night shift at a regular job, right? So I really enjoyed it, putting on that heavy fishing clothing really affected me and I went to all the shops in Gloucester, and it was all of this working class clothing, this fisherman clothes, and the restaurants and how they serve the food. In real life, I don't eat seafood. But I pay attention. I'm from Arizona, like you mentioned, and we don't have any whales in Arizona, but they do out there in Massachusetts. Oh my gosh, it was such a change for me. It's so fun for me to transform into a character. Thanks to our director, Sian Heder, she said, "don't cut your beard or cut your hair for five months before the first day of shooting", right? And so I grew out this massive beard. She sent me several photos and videos of real fishermen and what they do on the boat, and I started to think about that and let it all sink in. When I arrived in Gloucester, it's where I really started to dive into the character Frank Rossi and socialize and really immerse myself in that community. And at the bar, all these fishermen would actually get in fistfights almost every night and so the cops would pull up and they were so used to it. They would leave them alone, it was like an everyday thing that was almost normal. And I was just like, wow, I felt like being surrounded by a bunch of Popeye's, you know, being in Gloucester.
I'll ask you one more question just to wrap up because I know I know this is a pretty whirlwind time for you, in the lead up to the Oscars. We've touched a lot on what "CODA" offers as representation and how that representation wasn't there when you were first starting out. So I'm curious if you've sat down and thought about how you're that figure now for younger actors. What would you say to both your younger self, and to someone who like you, is seeing CODA and realizing this dream is possible.
Well, to my younger self, I would tell young Troy to remain persistent. go to workshops, go to college, be responsible and committed. And, of course, the bosses will like you, they'll remember you, they'll want to work with you again. And they'll remember the work you've done in the past. And of course, it's nice to have a backup plan, like a college degree or a certificate or a side job. So if something doesn't work out, you have something ready to pay the bills, right? So it's really important to listen. And so if you find your talent, really let it blossom and grow with your skill, build it up, life if you're talented as a mechanic, grow that skill as a mechanic. If someone is extremely skilled at science, grow that skill from when you're young and let it blossom. You're the only one who knows yourself. And so listen to your gut, listen to your instinct and trust it. That would be my general advice. And also, don't be afraid. Don't be afraid to be creative. There's no rules, because with today's technology and smartphones, you know, you can make a movie…you have a movie camera in your pocket when you have a smartphone. Keep that in mind.