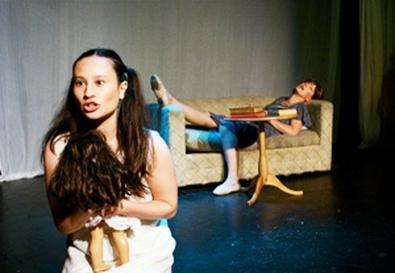 Explaining the plot of the new musical "23 Coins" is almost impossible without sounding like a Valley girl: It's about Gin, a child preacher who's maybe a genius? And her mother sells voodoo trinkets online? And the hypocritical preacher who discovered her kills a gay man? And there are these lectures from a man named Magic about genetics? And Magic dies in a hurricane? Neither writer-composer Mark Abrahams nor co-directors Stephanie Barton-Farcas and Michelle Kuchuk manage to smooth over the glaring plot holes and inconsistencies of the needlessly complicated story that concludes with all its plot points wrapped up in a ludicrously implausible finale.
Abrahams' songs are so blandly unmemorable that the inclusion of Stephen Foster's "Hard Times" merely points up the score's inadequacy. For a show set in the South, there's remarkably little that's Southern about the songs. As the voodoo saleswoman, Margaret Baker performs her character's seizures as if she were auditioning for the Linda Blair role in "The Exorcist" musical; even in profile, she stretches her lips up to her nose to bare her teeth in a grimace while her eyes roll wildly, like a spooked horse. She also frequently forgets that she's supposed to have a Southern accent, even though her character is originally from Washington. As Gin, Rebecca Lee Lerman is neither Southern nor childlike, though Lerman happily possesses the show's strongest voice. When Gin discusses the importance of the Magna Carta, the character is as far removed from a 9-year-old as imaginable.
The rest of the cast ranges from bad to worse, with most unable to carry a tune. As Magic, Peter Quinones delivers the needless and dumbed-down lectures by emphasizing the wrong word in almost every sentence. Tim Romero is completely at a loss as a sequined vest–wearing demon in a lengthy and hilariously awful hallucination, and Oliver Conant plays the malevolent preacher by utilizing every Southern redneck cliché imaginable.
For a theater company that boasts of choosing plays that challenge stereotypes, "23 Coins" is a major misstep.
Presented by and at Nicu's Spoon, 38 W. 38th St., 5th floor, NYC. Oct. 7–25. Wed.–Sat., 8 p.m.; Sun., 2:30 p.m. (212) 352-3101, (866) 811-4111, or www.theatermania.com.