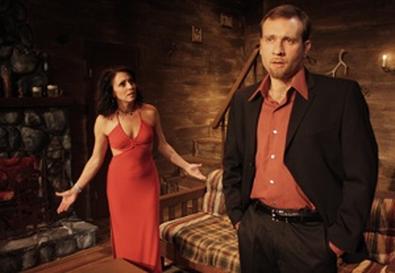 Thrills and logic are in short supply in this wannabe mystery, which suffers in comparison to such holiday-season chillers as the fondly remembered popcorn flick "Black Christmas," the gory story of a killer on the loose in a college sorority house. Playwright Gregory Blair reportedly aimed to integrate contemporary social commentary on such issues as homophobia and bullying within the formulaic framework of his potboiler, which owes a faint debt to Agatha Christie's "Ten Little Indians." Unfortunately, the myriad plot threads don't cohere; the piece succeeds neither as thriller nor as morality fable. Red herrings are a faint shade of pink at best, as circuitous small talk dominates the proceedings, leading to an improbable conclusion.
On designer Mike Jespersen's cozy and attractive set, depicting a resort cabin where New Year's Eve revelers become snowbound, director Douglas Green captures an atmosphere that mostly seems upbeat, if a bit innocuous. For much of its two-hour running time, this new work feels more like a low-key drawing room comedy than like a juicy nail-bitter.
Three of the four couples who have gathered for a festive reunion of former fraternity brothers are dealing with relationship issues. The hosts, Aggy and Trevor (Holly Montgomery-Webb and Douglas Myers), harbor a secret regarding a past tragedy, which still hampers their marriage. Trust issues are laboriously trotted out between high-strung Leanne (Sandra Purporo) and her husband Perry (Mikhail Blokh, generally displaying more dimension than his colleagues), and between two gay spouses (Les Brandt as Garth, conveniently a police detective, and Dwight Turner as Denny, conveniently a physician). Boorish Mark (Michael Harris, convincingly narcissistic) arrives with his latest flavor-of-the-week fling, Helen (Bobbi Berkmen), an oversolicitous outsider trying hard to fit in.
It takes a full act for danger to rear its head, after which the play limps to a contrived resolution. Many plot developments defy credibility. For example, why have three of the college fraternity brothers (Trevor, Perry, and Garth) retained a friendship with the fourth—the thoroughly obnoxious Mark? And why do they tolerate his atrocious behavior at the party? Christie's shrewd sleuth Miss Marple would have mopped the floor with this group of chattering wimps.

Presented by Ipso Facto Theatricals and Pix/See Productions at the Ruby Theatre at the Complex, 6472 Santa Monica Blvd., Hollywood. Nov. 27–Jan. 2, 2011. Fri.–Sat., 8 p.m.; Sun., 7 p.m. (Exception: Dec. 31, Fri., 7 p.m. Dark Dec. 24.) (323) 960-4412. www.coldlangsyne.us.