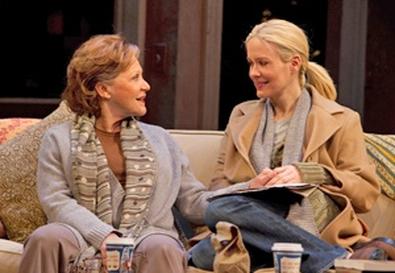 In this season of revivals, one might well ask, "Do we really need another production of 'Collected Stories' "? After all, Donald Margulies' two-hander, about the blurred lines between fiction and friendship, has had two similar productions in New York within recent memory: the premiere, presented Off-Broadway in 1997 with Maria Tucci and Debra Messing, and a subsequent staging just one year later, headlined by Uta Hagen and Lorca Simons. Linda Lavin and Samantha Mathis starred in a Los Angeles edition in 1999, which was later broadcast on PBS.
I suspect there have been so many stagings in such a relatively short span because this is one of the few plays with an especially rich role for female actors of a certain age. That part is Ruth Steiner, the difficult and demanding short-story writer who takes a much younger writer under her wing, only to find that her protégé has appropriated her life story as fodder for a novel.
Lavin is the raison d'être for the play's Broadway debut, an offering from Manhattan Theatre Club, which also presented the first New York outing. While director Lynne Meadow has not found anything new in the play—her production is quite close to the previous two—set designer Santo Loquasto's Greenwich Village apartment set is more spacious.
But as the tough-minded Steiner, Lavin gives a master class in acting you miss at your peril. Her every intention is visible on her expressive face and in her daggerlike eyes. Many of her flavorful line readings are followed by exactly the right small gesture or shrug to underline the subtext. The most moving and masterfully performed scene is the climactic confrontation between Ruth and Lisa, her former student, whom the older writer now regards as a thief for fictionalizing her youthful affair with a famous alcoholic poet. Instead of playing an emotion—anger—Lavin focuses on her physical life and grounds her actions in specific details. Ruth has been through a debilitating illness and is suffering from a cold. Rather than ranting and raving, Lavin eats soup and cottage cheese, blows her nose and piles on blankets to keep warm. It's a brilliant tutorial in physicalizing an objective—treating her sickness—rather than "acting" a generalized feeling. As Lisa, Sarah Paulson is not on the same high level as Lavin, but she skillfully conveys the transition from eager acolyte to formidable opponent.
Meadow's direction, though not flashy, proficiently puts across the shifting relationship between the two women and illuminates Margulies' solid script, which gives equal weight to both ladies' arguments on the rights of the writer. Though the "Stories" are familiar, they are still worth listening to, especially when told by such a master as Lavin.
Presented by Manhattan Theatre Club at the Samuel J. Friedman Theatre, 261 W. 47th St., NYC. April 28–June 13. Tue. and Sun., 7 p.m.; Wed.–Sat., 8 p.m.; Wed., Sat., and Sun., 2 p.m. (212) 239-6200, (800) 432-7250, or www.telecharge.com. Casting by David Caparelliotis.