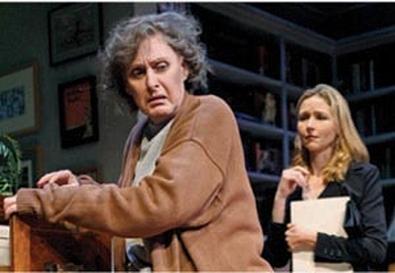 Donald Margulies' two-hander applies the dynamic seen in
All About Eve
to the literary world—in this case legendary short-story author Ruth Steiner (Kandis Chappell) and young up-and-comer Lisa Morrison (Melanie Lora), eager for the elder woman's approval. In her mid-20s, Lisa would also love to be able to eclipse the celebrated career Ruth has enjoyed. She does so by gradually getting closer to Ruth, then appropriating intimately personal details about Ruth's life as a young writer new to the New York literary scene. Chappell originated the role of Ruth 13 years ago for this, the theater company that commissioned the play. Her familiarity with the character expresses itself in dozens of overtly eccentric personality traits and more-subtle nuances. She inhabits the role from the inside out, communicating from the start her character's intensely private nature. The more strength Chappell projects, the more Ruth's vulnerability emerges. Her towering performance leaves no emotional stone unturned, accomplished via a thorough understanding that Ruth adopts an imperious persona not because she feels she's right but because she fears being burned.
Director Martin Benson and Lora wisely choose not to portray Lisa as Ruth's equal, even after the pair's relationship has moved from teacher-pupil to mentor-protégé to close friendship. Lora's reading of the role shades it to allow for the possibility that Lisa may have genuinely believed she hasn't wronged Ruth by exposing her cherished secrets and that Lisa's first novel—something Ruth, by choice, never had—is an homage to a literary idol. Benson's staging is a telling pas de deux that often resembles a chess match between a grand master and a hotshot new to the scene and seeking shortcuts to the top. With these two actors, Margulies' tale would have been compelling even had they merely read the script; backed by top-notch design elements, they're unbeatable.
Presented by and at South Coast Repertory, 655 Town Center Drive, Costa Mesa.
May 23–June 14. Tue.–Wed., 7:30 p.m.; Thu.–Fri., 8 p.m.; Sat., 2:30 and 8 p.m.; Sun., 2:30 and 7:30 p.m. (714) 708-5555
.
www.scr.org
.