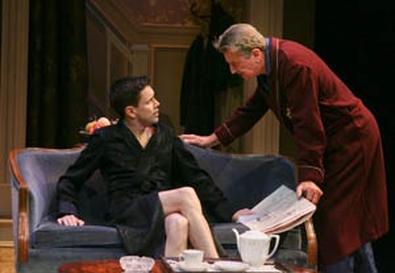 By pairing early- and late-career Harold Pinter one-acts, the Atlantic Theater Company displays the remarkable range of the late Nobel Prize winner and gives a quintet of New York's finest actors the opportunity to explore the depths of his famous pregnant pauses. Atlantic presented a similar Pinter duo a few seasons back: "The Room" (1960), a scary study of everyday menace in a cheap boarding house, and "Celebration" (2000), a wild comedy satirizing the dominance of boorish behavior at century's end. This time we have "The Collection" (1961) and "A Kind of Alaska" (1982), two equally intense short plays just as diverse in their subject matter and treatment. Pinter's trademark pauses and subtext are present in both, but the mood and tone are different. Under Karen Kohlhaas' taut direction, each work comes to bizarre, pulsing life.

In "The Collection," Pinter gives his unique unsettling spin on that staple of the British stage, the romantic triangle, expanding the genre into a quadrangle and turning a traditional source of lightweight comedy or melodrama into a blistering battle for power. The mysterious plot involves two couples—heterosexual James and Stella and gay Harry and Bill—in the fashion business. Stella informs her husband that she slept with Bill during a business trip. James confronts Bill, who at first denies the encounter but later confesses there were a few kisses. Dominance shifts from player to player in a game of one-upmanship as the truth proves elusive. We never find out if Bill and Stella did sleep together, but we do learn that both pairs are engaged in a struggle for the top position, figuratively if not sexually.

Resembling a young Dirk Bogarde, Matt McGrath makes Bill a wily schemer, simultaneously flirting and jousting with Darren Pettie's properly menacing James. Larry Bryggman slowly reveals Harry's steely fury underneath his prim exterior. Rebecca Henderson has the difficult assignment of making sense of the enigmatic Stella. Did she lie about the brief affair with Bill? If so, why? The audience never finds out, but the actor must know and work out a reason for her actions. Henderson clearly conveys Stella's unspoken motivation, and her final "Mona Lisa"–like smile as the lights fade shows Stella was in charge all the time.

"A Kind of Alaska" moves into entirely different territory, but a land that is just as frightening. Inspired by Oliver Sacks' study of the sleeping-sickness epidemic that swept over Europe in the early part of the last century, the play focuses on Deborah, who was struck with the illness as a teenager and is awakening after 29 years. In her stark hospital room, she is greeted by Hornby, her doctor, and her sister Pauline. Each offers a different version of what happened during the intervening decades. Deborah must make sense of a world in which she is suddenly an adult and everything she knew is changed or gone. Lisa Emery brilliantly chronicles Deborah's journey through a dreamscape of shadows and memories. She perfectly captures an adolescent mentality struggling to comprehend an incomprehensible reality. Bryggman, as Hornby, and Henderson, as Pauline, provide strong subtext of their own.

Walt Spangler's sets boldly convey the diverse personalities inhabiting the first play and the surreal atmosphere of the second. Bobby Frederick Tilley II's costumes also make a statement, particularly the mod '60s outfits for Stella and Bill.



Presented by Atlantic Theater Company at Classic Stage Company, 136 E. 13th St., NYC. Nov. 22–Dec. 19. Tue.–Sat., 8 p.m.; Wed. and Sat., 2 p.m.; Sun., 3 p.m. (No performances Thu., Nov. 25, and Wed., Dec. 1, 2 p.m.; additional performance Tue., Nov. 30, 2 p.m.) (212) 279-4200 or www.ticketcentral.com. Casting by Telsey + Company.