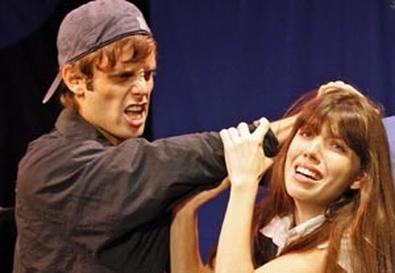 Sincerity mixed with an overestimation of one's abilities is a recipe for disaster, as the earnest but inert "The Columbine Project" is proving three times a week in an open Off-Broadway run at the Actors Temple Theatre. Although apparently a hit in Hollywood, this attempt at a docudrama about the horrifying Columbine High School shootings only proves that what Tectonic Theater Project and Moises Kaufman achieved with "The Laramie Project" ain't as easy as it looks.
By now the world is familiar with the events of April 20, 1999, when two disaffected students, Eric Harris and Dylan Klebold, stormed their high school with homemade bombs and automatic weapons, intending to murder all 250 students and teachers. Writer-director Paul Anthony Storiale has stitched his play together from journals, historical accounts, 911 tapes, interviews with survivors, and even the killers' confessional video, and yet the final result flattens and sentimentalizes the tragic story. He shows us the boys as they plan the attack over an extended period but is unsuccessful in dramatizing what toxic combination of forces could have created these sad monsters. Scenes are haphazardly shaped, and there are far too many of them. It's not that theater can't consist of short scenes in the cinematic style: Look to Daniel Talbott's excellent "Slipping" to show how that can be done. But "The Columbine Project" lurches from scene to scene without ever gaining momentum. Director Storiale compounds his authorial problems by allowing too many elongated blackouts and placing too much faith in the power of scene-change music. And considering that there is virtually no set (there is a credit for "set adaptation," whatever that means), there's even less of an excuse.
The acting of the 19-member cast runs the gamut from painfully amateur to colorlessly professional. Artie Ahr as Harris and Justin Mortelliti as Klebold are thankfully at the professional edge of the spectrum, but neither is successful at going much beneath the surface of his character. Best is Rya Meyers as Rachel Scott, the fervently Christian girl who tries to befriend Klebold and ends up the first murder victim for her compassion. But even Meyers is tripped up by a long, virtually unplayable monologue taken from the girl's journal. Just because Scott wrote it that way doesn't mean it will work on stage.
Storiale's decision to have as narrator a gay guitar-playing teenager who is dealing with the same kind of ostracism and cruelty that the murderers faced is indulgent, and his shrill, tuneless rendition of "Over the Rainbow" that brings down the curtain is an exercise in treacle. When you choose events of this magnitude as your subject matter, you have a responsibility to render them with the gravity, insight, and professional skill they warrant. If you can't, then don't.
Presented by David and Pamela Burrus, Jessimeg Productions, Bree Paveyat the Actors Temple Theatre, 339 W. 47th St
.,
NYC
.
Opened Aug. 9 for an open run. Wed. and Thu
.,
8 p.m
.;
Sun
.,
7 p.m
. (
Additional performances Tue
.,
Aug. 11 and Sept. 15, 7 p.m
.)
(
212
)
239-6200
, (
800
)
432-7250, or www.telecharge.com
.