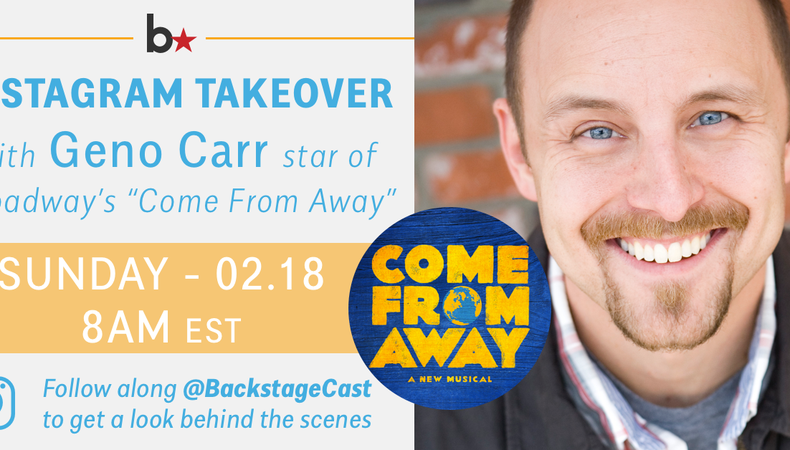 How does a performer maintain a show's vibrancy eight times a week, one year into the run? It's a formidable challenge, but one that Geno Carr of Broadway's "Come From Away" feels lucky to endure. The Tony-winning tuner, set in a small Canadian town that became a respite for thousands in the days immediately following 9/11, features a 12-person ensemble who all handle equally-heavy lifting. Carr, who plays a number of roles, takes over the Backstage Instagram on Feb. 18 to give audiences a behind-the-curtain peek at a matinee day on the Great White Way. Before he does, though, Carr reflects on maintaining vocal health throughout a long run, and why it's a privilege—and responsibility—to tell this story in New York City every night.
What does the one-year milestone feel like for the "Come From Away" company?
In many ways it's hard to believe it's already been a year. Time really does fly. I know that everyone at the Schoenfeld Theatre feels so grateful to be a part of telling this story and we are all so excited that we get to keep doing it. The world continues to need this story of kindness and we love that we get to continue to tell it.
How do you continually make the show fresh and vibrant, one year into the run?
I'm not going to lie, it's not always easy. Luckily, the way this show is written and staged requires a ton of focus and energy and that means we need to be continually tuned in and on our toes. We also know that it's a big responsibility to tell this particular story in this city, and we take that responsibility very seriously.
You play a number of characters; have you been able to delve deeper into the track as the run has worn on?
Absolutely. Having the chance to explore these characters hundreds of times is a wonderful opportunity as an artist. There is always something to learn every time you perform and I love that I get to keep playing and learning.
How have you ensured your voice remains healthy throughout the run?
This is a deceptively difficult show to sing. So much of the show has some or all of us singing almost throughout and it requires a ton of stamina and range. Rest is always best, but since I have a 2 and a half-year-old at home, that's sometimes easier said than done. I do the best I can to take of myself when I'm not on stage and have found ways to sing the show safely so that I can stay as healthy as I can.
What, to you, is the best part of getting to do a long Broadway run?
I have the best job in the world. Getting to do this show eight times a week with these wonderful people for these amazing audiences is the absolute best. I consider myself the luckiest guy in the world.
"Come From Away" is currently running at Broadway's Gerald Schoenfeld Theatre. You can get tickets and information here.