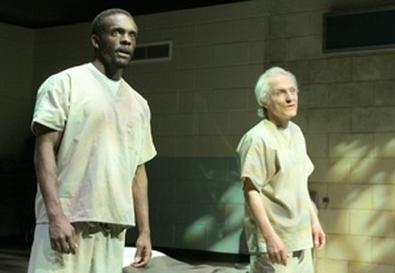 Death row is a familiar setting where, in many a melodramatic movie, TV show, and play, a condemned prisoner achieves a hokey epiphany on the eve of his or her execution. Fortunately, Nathan Louis Jackson's "When I Come to Die," the latest new work in Lincoln Center Theater's LCT3 series, handily avoids tear-jerking clichés in its clear-eyed depiction of a condemned man coming to terms with his imminent demise.
Jackson, whose "Broke-ology" was a highlight of Lincoln Center's Mitzi Newhouse schedule last season, creates a believable and almost sympathetic protagonist in Damon Robinson, a convicted killer who regrets the foolish act that led to his fatal punishment and desperately seeks acceptance of his fate. But just as the playwright used the shopworn device of a ghost in his otherwise insightful "Broke-ology," Jackson employs a creaky trick to set his drama in motion. Before the action starts, the doomed Damon somehow survives lethal injection. While the media calls his reprieve from the death chamber a miracle, Damon tries to understand why he's been spared. He looks for answers from the prison chaplain and his fellow inmate Roach and pours over hundreds of letters he's written to his family, which have all been returned unopened. We never receive an explanation for his cheating of death—in the end, it turns out to be only temporary—but along the way Jackson skillfully guides us on Damon's journey toward acceptance. It's a simple and powerful play, despite the author's clumsy imposition of the miracle.
Thomas Kail delivers a clean, precise production by focusing on Damon's inner struggle and de-emphasizing the tabloid nature of his first brush with the Grim Reaper. Set designer Robin Vest creates a realistic prison world, while Betsy Adams' lighting perfectly conveys the passage of time and imaginary detours.
As Damon, Chris Chalk builds on the promise shown in his bright performance in the recent Broadway revival of "Fences." He masterfully limns this near-tragic character's conflict between macho posturing and keen intelligence. David Patrick Kelly is equally moving as the soft-spoken Roach. Neal Huff finds humor and compassion in the chaplain and mines the character's quirky obsession with sports for delicate shadings. Amanda Mason Warren takes the small role of Damon's visiting sister Chantel and endows it with large emotions. In one brief scene, she conveys Chantel's love for her wayward brother as well as her desire to exploit his sudden fame in order to provide medical care for her sick daughter. Warren also strongly gets across Chantel's refusal to feel guilty for her need for the money. Michael Balderrama completes this estimable ensemble as a belligerent prison guard who is also capable of dignity when walking his charges on their last mile.
Presented by Lincoln Center Theater/LCT3 at the Duke on 42nd Street, 229 W. 42nd St., NYC. Feb. 10–26. Mon.–Sat., 8 p.m.; Wed. and Sat., 2 p.m. (646) 223-3010 or www.lct.org.
Casting by Daniel Swee.